How small businesses generate leads
Lead generation is often called the lifeblood of a successful business. Why? Because to win more clients, you need more business leads. Without any new leads, you won't be able to get any new sales appointments to grow your business.
So, the big question is…
How can you generate new qualified leads for your business each month?
And how can you do this in a way that is predictable, profitable, scalable and automated?
The short answer is you need to have:
1) A sales funnel that converts leads into clients automatically
2) Automated and profitable ways to get leads into that funnel
The more people that go to the sales funnel, the more leads, appointments and clients you'll get out of it.
I explain in more detail how you can do this in my free Masterclass training here.
In this article, I'll also dig into some of the most popular ways you can generate leads using both free and paid lead generation strategies.
If you prefer, you can watch the video version of this article:
Best Lead Generation Strategy
Lead generation starts with the right strategy.
Without the right strategy, it doesn't matter what you do to try and get leads, it won't work very well…
Here's an overview of the best lead gen strategy to get high quality business leads each month:
Opt-in landing page
Video page
Schedule call page
Application page
Call confirmation page
These 5 pages of a lead generation funnel will help you turn strangers into leads, sales appointments and clients.
Tip: If you're not sure how to create this funnel yourself, check out my done-for-you lead generation sales funnel.
Here's a break down of each step in the lead generation funnel:
Step 1: Have an opt-in page that solves a big painful problem
An opt-in page is a landing page where you promise to give your potential clients a solution to a problem they have in return for them giving you their name & email.
Here's an example of one of my most popular opt-in pages:
An opt-in landing page should have:
A title that describes a big problem you solve for your potential clients
A few bullet points with some added value or reasons why this would be a good fit for them
A form where they can enter their name & email to receive the information you promise
Tip: Keep the opt-in landing page simple. Sometimes if you put too much text (e.g. a long sales page) you can accidentally give reasons why you might NOT be a good fit. Long sales pages can also cause your website to load slower which negatively affects the conversion rate.
Step 2: Send them a link to a video
After they have giving you their name & email, you now need to give them the information you promised.
The information needs to explain how they can solve a problem they have and how you can help them get even better and quicker results if they decide to work with you rather than do everything by themselves.
When presenting this information, I recommending presenting it in a video format, rather than a written guide.
Why?
A video is:
More engaging (in other words, people will actually WATCH it)
It's easier to build trust
It gets faster results
See also: What is the best lead magnet: a video or free guide?
If you'd like to know in more detail what to actually say in this video to get more conversions, then check out 'Step 2' of the free Masterclass training I recorded which goes through how to do this in a lot more detail.
If people like what they hear in the video, they need to be able to click on a button below the video to go to the next step in your sales process (e.g. buy a product, service or book a sales appointment).
For most of our clients, the next step in the sales process is to schedule an appointment.
This is because they sell a higher priced product or service and it's much easier to get sales on an appointment if you're selling a product or service that costs over $3,000.
Step 3: Convert leads into appointments
Every time you get someone to enter their name & email, congratulations! You've generated a new lead!
However, a new a new lead is NOT the same as a new client.
But a lead IS the first step to getting a new client.
If the lead watches your video and they like what they hear they will convert into an appointment.
That's why at the end of your video, it's important you have a call to action to go to the next step in your sales process.
However, the reality is, most leads will NOT convert into a sales appointment straight away.
That's why you need to follow up with prospects until your leads convert into clients.
For example, if the next step in your sales process someone needs to schedule a call before they become a client, then you would have a call to action telling leads to schedule a call in your calendar to learn more about how you can potentially help them.
See also: How to find new clients fast!
Follow up with leads until they convert
Some leads you generate will convert into appointments and clients straight away.
But most will not (which is totally normal).
That's why it's important you have a strong follow up process (through follow up emails or retargeting ads) to build trust with your leads over time until they do eventually convert into clients.
Most business owners do NOT have a strong follow up process which is why very often the leads they generate never convert into clients.
So don't make the same mistake.
Keep following up with your leads, each week, until they eventually convert.
You can follow up with leads via:
From all the follow up methods above, you'll find that email marketing works best when converting leads into clients.
However, to give you the edge over your competitors, it's good to use a combination of all these follow up strategies.
Now that you know the right strategy in place, the next logical question is…
How do you actually generate leads in the first place?
The best way to generate business leads
There are two main ways you can generate leads: using free and/or paid strategies.
Now I'm not going to go through EVERY strategy to generate more leads (there are literally hundreds), instead, I'm going to focus on the ones I've found get the best results.
Best free lead generation strategies
Let's start with the free lead generation strategies.
The advantage to using free lead gen strategies is that, as the name suggests, you generate leads for free (or by spending very little money). The disadvantage is that often these strategies take longer to get results with compared to paid strategies.
That being said, free lead gen strategies are an excellent way to generate more leads. And even if you prefer paid lead generation (because it gets faster results), I still recommend doing free lead gen strategies at the same time.
So let me go through 3 of my favorite free lead generation channels.
How to get leads for free using LinkedIn
On LinkedIn, you can generate new business for free by connecting to potential clients and asking them if they want to watch a free video that goes through how they can solve a big problem they have.
You don't have to spend any money on LinkedIn to do this, but you do need to spend time finding, connecting and messaging people who are your potential clients.
That being said, there are ways you can automate this step using LinkedIn software such as Meet Alfred.
Important: The KEY to getting results on LinkedIn is to NOT sell to them straight away (which is what most other people are doing).
Instead, ASK them if they want to see a short video that goes through how you can help them.
If they say yes, you can send them to your opt-in landing page and start getting leads from LinkedIn for free.
How to get leads for free using Google & YouTube
Every day there are thousands of people (including your potential clients) who are searching Google and/or YouTube for answers to their questions.
The question you need to ask yourself is… Are they finding YOU or your competitors?
For your website to appear on search results, you need to answer questions (in written or video format) that your potential clients are asking (or searching for).
There are literally thousands of questions you can answer!
By doing this, you can generate a steady stream of new leads & clients every month (for FREE) from both Google & YouTube.
This inbound marketing strategy does require quite a bit of work in the beginning, but it is hands down one of the best ways to generate leads for free.
Once you create and publish the content on your website, that same content can get traffic, leads and clients every month for years into the future.
Tip: The more content you create answering questions your potential clients ask, the faster results you'll get. See 'Step 4' of this video to learn what kind of questions typically get the best results from Google and YouTube.
Best paid advertising lead generation strategies
If you want to get FASTER results, then you can simply pay an advertising channel such as Facebook, Google, YouTube or LinkedIn for ads.
In these ads, it's a good idea to give prospects a small TASTE of how you can help them solve a problem they have.
In other words, give them some free helpful educational content on the ad itself.
Some people even treat the ad almost like a mini article or helpful video. This is so that the ad doesn't look like an ad. It looks like a regular post on their social media feed.
Then, if they like what they hear or see on the ad, tell them to learn more they can watch a video you've recorded.
When they click on the ad to they should go to your opt-in landing page.
After about a week or so of running ads, the advertising channel you're using will tell you your average cost per lead. Then through split testing different ads or audiences you can lower your cost per lead over time.
See also: How to generate 10, 15, 30 or more appointments each month with your ideal clients 
The only downside to paid ads and other paid advertising channels is that it's less profitable compared to free or low cost ways to get leads (such as Google SEO or YouTube SEO).
How to get leads with Facebook & Instagram ads
The advantage to getting leads with Facebook lead ads is that you can target people who have an interest in what you do.
Facebook has the most powerful "interest targeting" options out of any advertising channel.
With Facebook ads you can combine multiple interests to drill down and target someone who is exactly the kind of client you want to win.
For example, imagine you're an accountant looking for accounting leads and you want to target digital marketing business owners on Facebook who also use Xero. You can do all of this by combining different Facebook ads interest targeting in your Facebook audience ad set.
Oh and once you have a converting Facebook ad, it's completely automated.
You can often leave the Facebook ad on for years (which is what I've done in my own business).
However, if one day something changes in the market and the problem you solve is no longer relevant to your audience, then obviously the ad will stop working.
For example, I had a COVID-19 FB ad that worked well during Covid, but as things started going back to normal, results dropped off.
But apart from that, the primary FB ads I'm using today haven't been touched in years and still work well. The only thing I adjust is the budget (depending on how busy I am and how many leads I need each month).
In other words, Facebook ads allow you to get leads and clients on-demand and you're in full control of how many new leads you get each month.
How to get leads with Google & YouTube ads
The principles for getting leads with Google & YouTube ads work very similar to Facebook ads. The main different and big advantage that Google ads and YouTube ads have in "in-market targeting".
In other words, you can target people who are actively searching for a solution you provide with Google & YouTube advertisements (they are "in the market" for your product or service)
This makes Google and YouTube a very powerful way to get more business leads and it also means the leads convert much quicker into clients compared to other marketing channels.
However, remember there are also ways you can rank higher on Google without using Google ads.
For some competitive search terms it can longer to rank first on Google, but in the long-term, it's a lot more profitable.
Of course, with ads, you can get to the top position instantly without waiting.
The same principles for running Google ads apply to YouTube ads. The main difference is that instead of having a text based ad, you'd have a short YouTube video ad.
Hire Lead generation companies to get help you get faster results
If you're new to lead generation, don't do everything on your own!
There are lots of B2C and B2B lead generation companies, tools and services that can save you a lot of time.
Lead generation companies can help you save time by:
Automating your lead generation
Consulting you on how to do lead generation
Hiring a lead generation company is a great way to save time, make less mistakes and get faster results in your business!
Stay focused on lead generation in your business
When it comes to marketing your business, there are hundreds of marketing strategies you could use.
But very few actually get real tangible results.
So I recommend you keep your marketing simple and stay focused on the marketing activities that will get the best results.
In fact, all you really need to do is focus on ONE or a few good strategies that will constantly generate new leads for your business each month.
Remember: The more leads you generate, the more appointments and clients you will win each month in your business.
To see my detailed step-by-step strategy on how to get leads & appointments each month on Facebook, LinkedIn, Google & YouTube then watch my free Masterclass training here.
FAQs
Is it better to buy leads?
Buying leads does get you quicker results because everything is done-for-you. However, the problem with buying online leads is that the quality is often low (because many leads are shared with others) and buying leads is more expensive than getting your own leads.

If you buy leads, it's a good idea to do this as a temporary strategy to grow your business, while at the same time you focus on developing your own exclusive lead generation system.

We help business owners get their own leads without needing to buy leads. Watch this video to learn how.


What is a lead?
A lead is a person that gives you their contact information (such as name and email address) in return for some information on how you can help them. The information is usually delivered in the form of a lead magnet.


Why is lead generation important?
Getting leads to generate new business is important because it allows you to find people who are interested in your product or service. The more warm leads your business has, the faster you will grow your business.


What is the difference between leads and sales leads?
Leads are people who raise their hand saying they are interested in learning more about how you can help them. This is usually done by offering some kind of free content in a lead magnet. Sales leads are leads that have almost converted into a sale. A sales lead usually happens when a lead books a sales appointment.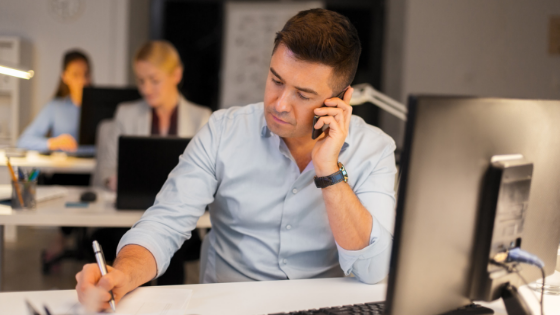 What is lead generation?
Lead generation is the process of generating leads to grow your business. You can do this by attracting potential clients with a lead magnet and then nurturing leads through email marketing until the lead converts into a client.


How long does it take for leads to convert into clients?
It can take anywhere from a few days to a few years for leads to convert into clients. On average, 1% of your leads will convert into clients within a 3 month period. More leads will convert into clients after 3 months as the leads continue to get your follow up emails through email marketing.


Can you get leads from your website blog?
Yes, you can get leads from your website blog posts. The best way to do this is by having a lead magnet on your blog posts in the beginning, middle and end of the article. For best results, integrate your lead magnet into the blog post and don't make it look like an advertisement. Make it look like this is the natural next step to take if they want to learn more about how you can help them.

Most people do NOT optimize their blog posts for leads. They just create a blog post and all the traffic it gets leaves without converting. That's why it's critical you have links on your blog posts going to the next step in your sales process (which is your sales funnel) if you want to generate more leads for your business.


How do you qualify leads?
You can qualify leads before you speak to them by having an application form. It's also a good idea to help leads pre-qualify themselves by explaining in a short video (before they fill out an application form) who you're a good fit for.


What contact information should you ask for on a lead form?
The best contact information you can ask for on a lead form is their first name and email address. This makes it easy for a potential client to fill out the form and it allows you to follow up with leads via email marketing. Some leads also ask for a phone number in the opt-in form but this can hurt conversions if you ask for this too early in the buyer journey.

Here is an example of an opt-in form on a landing page asking for a phone number:


What is lead scoring?
Lead scoring allows you to assign points to leads as they engage with your business in different ways. The more points a lead has, the higher their lead score. Sales reps will typically manually reach out to leads with a high lead score that haven't yet taken action and gone to the next step in the sales process. Having a lead score is an easy way for you to know which leads are more likely to convert into clients.

Most lead CRM's have some kind of lead score feature, including the marketing automation system we use which is called Kartra.


What is the best Call To Action (CTA) to get leads?
The best CTA to get a new lead is to offer them a free educational video that promises to solve a big painful problem they have. This CTA works particularly well if a lead has never heard about you before. If a lead already knows what you do and how you can help them, then another good CTA would be to schedule a free consultation in your calendar.


Are referrals a good way to get leads?
Yes, referrals are a great way to get leads and it shows that you're providing a good service to your clients. However, the downside with referral marketing is that it's not very scalable or predictable. You don't know how many referrals you will get each month. For this reason, it's good not to rely on referrals alone to get leads. It's good to have your own inbound lead generation system that helps you get new leads each month predictably.

As a side note: I used to go to business events such as BNI to try and get more referrals. It definitely helped. But it was also very time consuming. I've now replaced those strategies with 100% online lead generation techniques.


Are networking events a good way to get leads?
Networking events and seminars can be a good way to get leads. The only problem is that it can also be very time-consuming. There are other less time-consuming ways to get more leads and clients without relying on networking events, seminars or even webinars.

In the past, I used speak at various small business networking events. But I found that replacing this with an automated online way to get leads was a lot more effective lead generation strategy. This video explains what I do now instead.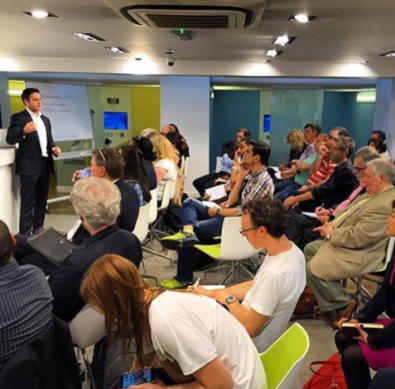 Is social media a good way to get leads?
Social media can be a good way to get leads if you use it the right way. The wrong way to use social media is to spend time on activities that do not directly contribute to leads, appointments and clients (things like posting every day on social media, trying to get more likes, engagement, followers, etc). The right way is to focus on the activities that generate results.

Each social media channel has a different way to use it, so watch this video if you want to learn how to get results from your lead generation strategy.


What are the biggest lead gen challenges?
The three biggest lead generation challenges are:

1. Getting quality leads
2. Getting profitable leads
3. Converting leads into clients

To solve these challenges once and for all watch this video.


What are the types of lead generation?
There are many different types of lead generation including:

Traditional offline lead gen:

1. Networking events
2. Referrals
3. Seminars
4. Speaking at events
5. Flyers
6. Cold calling
7. Door knocking
8. BNI
9. Friends & Family
10. Business directories

Traditional online lead generation:

10. Cold emailing
11. Buying leads
12. Online directories

Modern online lead gen:

13. Google Search Engine Optimization (SEO)
14. YouTube search engine optimization
15. Paid Advertising (Facebook ads, Google ads, YouTube ads, etc)
16. LinkedIn outreach
17. Retargeting ads
18. Email marketing
19. Inbound leads
20. Content marketing
21. High converting landing pages
22. And more!

As you can see there's no shortage of ways you can get leads for your business.

However, you don't need to do all of these lead gen strategies. In fact, you only need one (or a few) high converting lead gen strategies. Watch 'Step 4' of this video to see what the top 4 lead gen channels are right now.


Can A/B split testing improve lead generation?
Yes, A/B split testing can massively improve your lead generation results. In fact, even if you're getting good results from your lead gen campaigns, it's still a good idea to split test new ads, messages, a different target audience, etc to see if you can get even better results in the future.


What are the best lead gen tools?
The best tools to help you automate lead generation are:

1. Kartra: this will handle every aspect of your business including landing pages, video hosting, email marketing, analytics, online payments and more. It's an amazing all-in-one solution!

2. Linked Helper or Meet Alfred. Both of these companies provide excellent LinkedIn automation lead generation software to automatically connect and message LinkedIn prospects (just make sure you use in a safe and sensible way).

3. Calendly. This allows you to get sales appointments straight into your calendar.

4. Zapier. This is helpful if you want to connect different tools together.


Ashley Davis (or 'Ash' for short) is the CEO & Founder of Skyline Social. For over 15 years, he has been helping business owners with lead generation. Ash specializes in helping businesses get high-quality leads, appointments and clients each month in an automated, scalable and profitable way. You can watch his free Masterclass training to learn more.