Google SEO lead generation is one of the best and most profitable ways to generate leads online.
A lot of people spend time and money paying for expensive Google ads (Pay Per Click Ads), when they can get the exact same leads for free with Google Search Engine Optimization (SEO).
In this article, you'll learn:
The pros and cons of using SEO lead generation strategies
Whether SEO lead generation is better than social media lead gen
How to generate leads on Google using SEO
But wait!
Before you keep reading… Before you even think about trying to get leads on ANY digital marketing channel (especially Google) you need the right strategy.
To learn the best strategy to convert leads into clients watch this free training FIRST.
Once you've watched the free training video, everything else will make a lot more sense when it comes to using any kind of lead generation strategy.
Watched the free training?
Great!
Let's get started with how to get leads for free with lead generation SEO.
How Google lead generation works
There are two mains ways you can generate leads on Google:
Google Pay Per Click (PPC) and Google search engine optimization (SEO)
What is Google PPC?
When someone types something in Google, your website can appear at the top of the search results relatively quickly by paying Google to be there. You pay every time someone clicks on your sponsored advert (pay per click or PPC).
What is Google organic SEO?
When someone types something in Google, your website ranks on Google without you having to pay to be there. Ranking higher on Google organically is called SEO (search engine optimization).
The difference between Google PPC and Google SEO
It typically takes longer to get results from Google SEO. But the advantage is that you can get leads for free once your website is ranking higher on Google.
Google PPC on the other hand can give you instant results, but it's also more expensive. You have to pay per click or pay per lead with Google PPC.
Here's an example:
Although both Google SEO and Google ads can work well, for obvious reasons, ranking first on Google is a lot more profitable.
And it's actually EASIER than you might think!
Tip: If you need help with doing this, be sure to check out my lead generation online course. We cover this in a lot more detail, give you step by step video instructions and private consulting to make sure you're getting the results you're looking for.
SEO for lead generation
To start getting leads from Google, it's important to make sure you understand WHY you're doing SEO. You're not doing SEO for views, traffic to your website, likes or engagement.
You're doing SEO to generate leads which will convert into clients.
It's better to get 1,000 good quality website visitors that will convert into clients compared to 10,000 bad quality website visitors who will never convert into clients.
Here's an overview of what you need to do to get leads for FREE from Google:
Step 1. Create an SEO strategy
The first step to creating an SEO strategy is to start with keyword research. In other words, you want to find out what are the best keywords to target. The best SEO keywords will:
Be questions or phrases your potential clients are searching for
Have low competition so you can rank for them relatively quickly
Have high search volume so you can get a good amount of traffic to your website
Not all keywords will be a "Perfect Keyword" and that's okay! Just do your best to try and find as many keywords that get as close as possible to the "Perfect Keyword" criteria.
To save you time, you can also use SEO keyword research tools to help you. There are hundreds to choose from, so just do a quick Google search and see which one looks right for you.
One of my favorite SEO keyword research tools is Surfer SEO.
Why?
Because Surfer SEO allows you to know which keyword topics you need to write about to achieve topical authority.
For example, if you enter a keyword into the "Content Planner" tool it will tell you which topics to write about: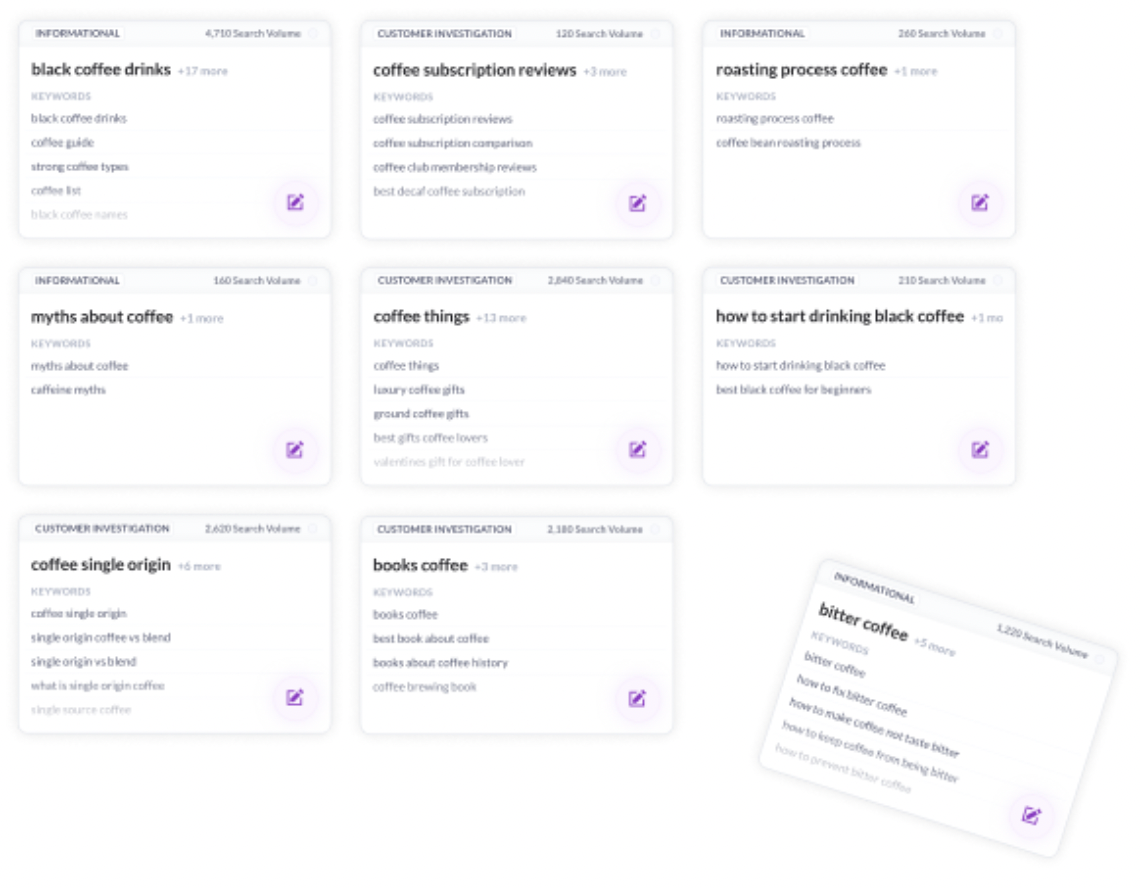 It can also organize the content based on difficulty, search volume or relevance.
Tip: I've found the best keywords to target are questions that your potential clients ask on a sales appointment. These questions usually have low competition and a decent amount of search volume each month.
Step 2. Create articles answering questions
Once you've got a list of SEO keywords ideas, it's time to start turning them into questions that you can answer in an article.
For example, for this article, one of the keywords I wanted to rank for was "SEO Lead Generation". But I can't just create an article called "SEO lead generation".
That's why you need to turn your keyword into a question. For example, this article is answers the question "SEO Lead Generation: How to best get leads without PPC or Google Ads?"
Make sure the keywords you want to target are in the title of the article and it's in the form of an interesting question.
Next you just need to answer that question as best as you possibly can.
Have a look at which websites are ranking on Google for that keyword and then do your best to answer the question better than them.
If that takes too much time, you can automate this step using a tool such as Surfer SEO.
Surfer SEO's content editor will look at who ranks first on Google for any keywords and tell you what you need to include in your article to beat it!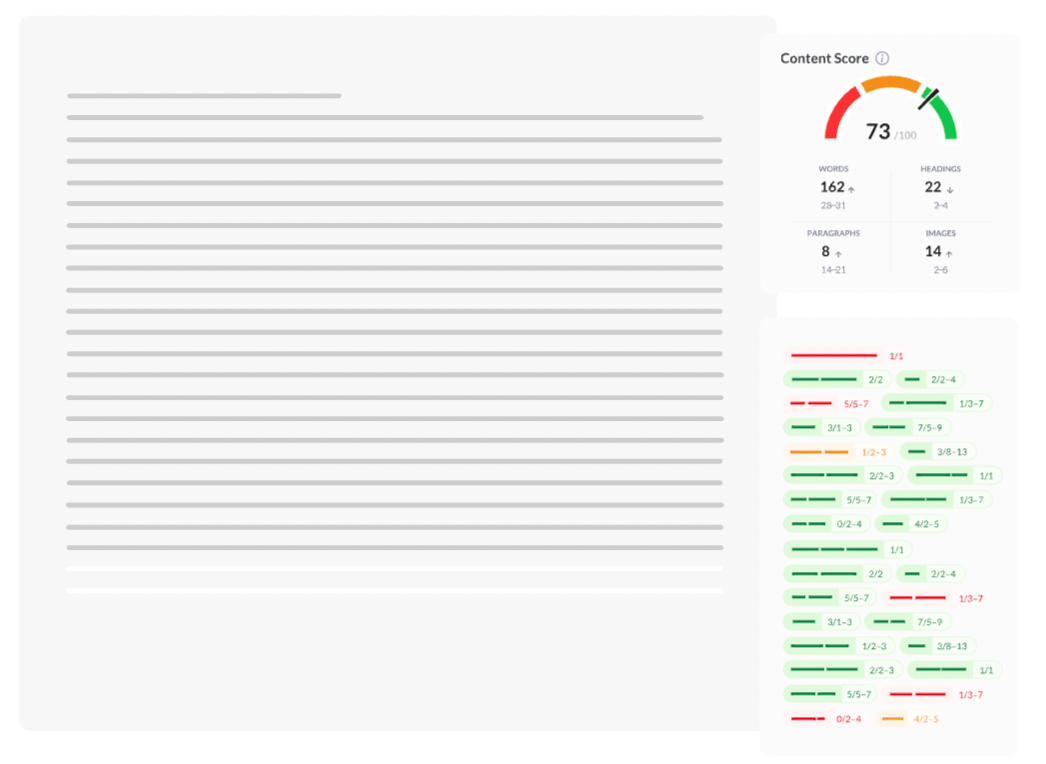 The higher your "content score" the more likely you will be to rank for a certain relevant keywords.
If you do this right then Google will view your website as the BEST website that answers the question and rank you higher on Google.
In fact, chances are you're reading this article right now because of a Google search which is proof in itself that this strategy works.
Tip: Google uses something called "Topical Authority" to rank websites higher. In other words, if you create lots of content on the same topic, Google can eventually view you as an authority on that topic. This means you're more likely to rank for keywords on that topic in the future. So, it's a good idea to create articles around one theme or topic at a time.
Step 3: Optimize your SEO content for lead generation
One of the biggest mistakes business owners make is spending time and money creating articles for their website and then NOT optimizing them for lead generation.
It sounds crazy, but I see this all the time.
A business will rank higher on Google for lots of different keywords and none of those articles will generate any leads.
So make sure you don't make the same mistake!
To optimize your content for leads, you need to have a lead magnet in your article that sends people to the next step in your marketing and sales funnel.
For example, throughout this article (and all over my website) you will see links sending you to my funnel. The funnel gives away some incredibly helpful and valuable free educational content, and in return, I'll get your name & email address so I can start building up a relationship with you over time with useful follow up emails.
So in your…
Content marketing
Blog posts
Website
Anywhere else
… Be sure to ALWAYS send people to your funnel!
Step 4: Track SEO results
Once you're starting to create content regularly on your website, it's important to track the website traffic and search impressions using Google Search Console and Google analytics.
Google search console will tell you how many "impressions" you're getting from your SEO campaign.
The more impressions your website gets, the more your website rank is increasing.
You can also use tools such as Ahref's to track SEO results and keyword rankings.
However, in due time you may notice something odd in your SEO rankings.
You'll probably see that you start to get search impressions for some keywords, but you're not yet ranking on the first page of Google. In fact, you might only be on page 2, 4, 5 or further down.
This shows that your website has the POTENTIAL to rank for these keywords, but Google doesn't yet view it as the BEST and most authoritative article to answer the users search intent.
So, how can you increase your website authority with Google?
ONE: Make sure the article is as good as or better than the other articles on page 1 of Google
If that still isn't enough, then:
TWO: Create other articles on the same topic (to build topical authority)
And if that's still not enough, then your last option is to:
THREE: Build links to your website and articles
This brings me nicely to…
Step 5: Build links to your website
In simple terms, every time another website links to your website it counts as a "vote" in Google's eyes. The more links (or votes) you have, the better your website will rank.
However, not all links are equal.
Links from high quality websites are worth more than links from low quality websites. In fact, links from low quality websites can actually do more harm to your website than good.
A low quality website is usually a website that is built with the sole purpose to spam and manipulate the search results.
It provides no actual value (or very little value) to the user.
A high quality website has usually been established for many years, has lots of content, is already ranking on Google for lots of different keywords and it has traffic going to it.
Your goal with link building should be to get as many high quality relevant links going to your website as possible.
The most popular way to do this is by guest blogging.
But don't guest blog anywhere. If you guest blog on a website that lets anyone write, then chances are it's a low quality website.
Only guest blog on a website that doesn't normally allow people to write guest posts.
You can do this by reaching out to websites that you maybe work with (either as a client, supplier or strategic partner) and ask if you can write a guest article on their website to help their website visitors.
On-site website SEO
Once you have good quality content on your website and some backlinks pointing to it, the next thing you want to check is your on-site website SEO.
It's a good idea to do an SEO audit of your website and ensure:
Your website has no broken links
You have good website structure / organization
You meet the Google core web vital requirements (fast website, SSL certificate, mobile friendly, etc)
Optimizing the meta title tag and meta description of all your web pages
You can check if your website meets the on-site requirements by:
1) The free way: Use Google Search Console. Google will tell you if there are any major errors with your website (such as broken links or 404 error pages).
2) The paid way: Use a tool such as Ahrefs.
The advantage to using an SEO tool such as Ahrefs is that it will give you a SEO "health score":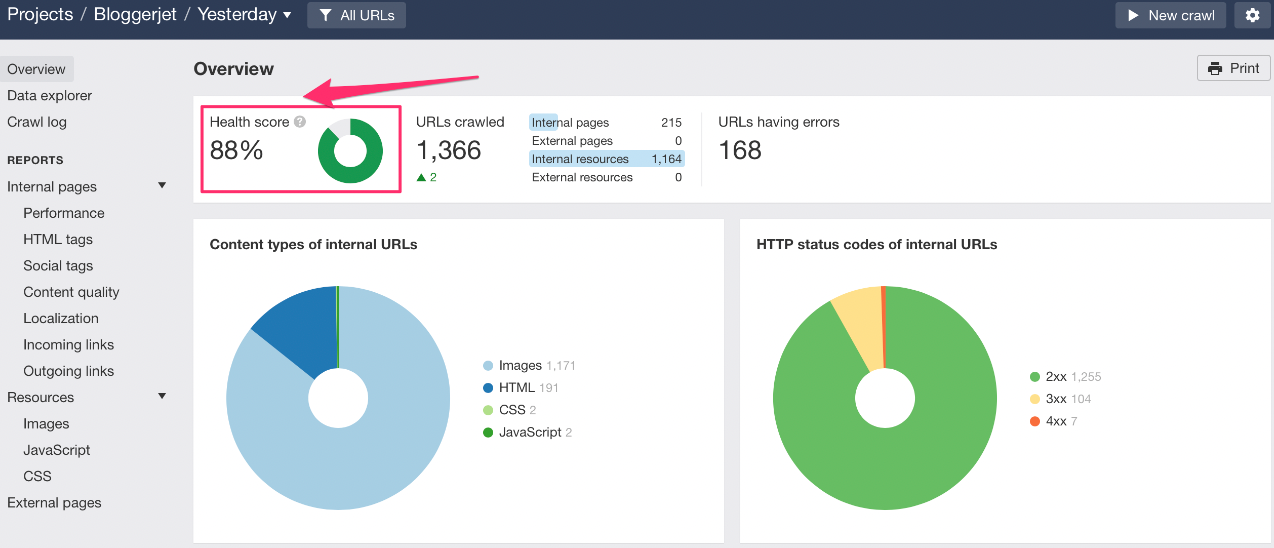 And it will tell you what things you need to do in your website to improve the SEO health score: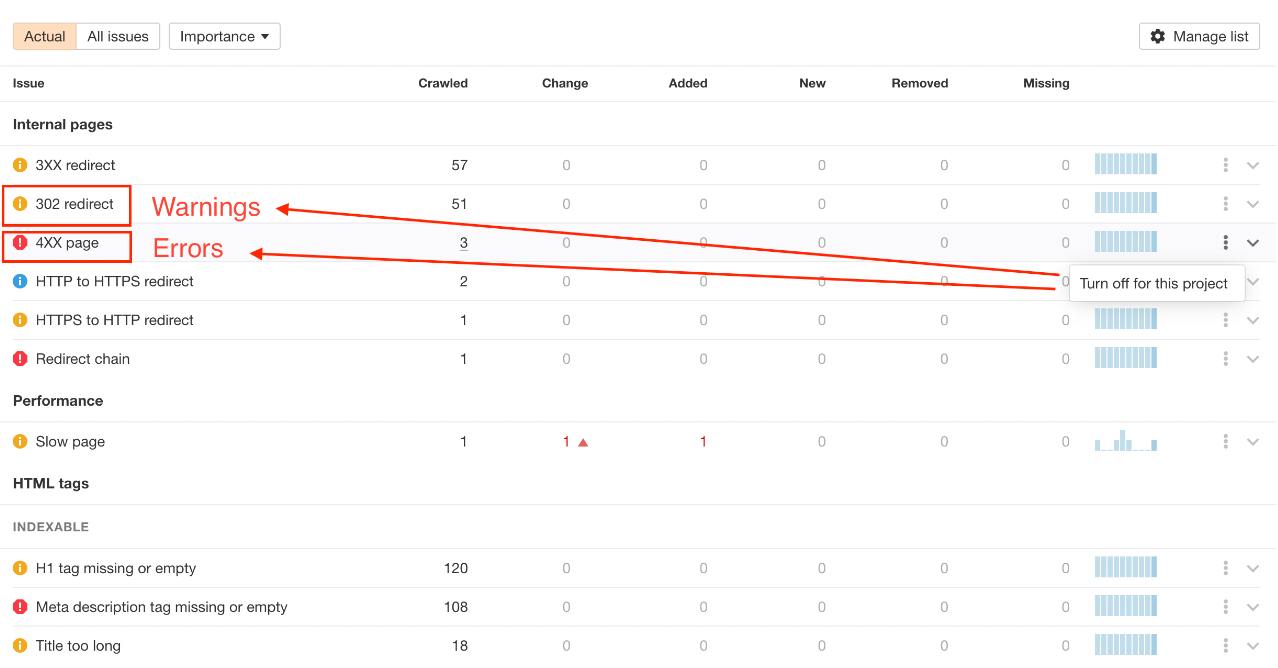 Just by fixing some of your on-site website SEO, you can see a boost in your search engine results.
Is social media lead generation better than SEO?
Just like with Google lead generation, you can generate leads for free or by using paid advertising on social media…
So you might be wondering, which is better: SEO or social media lead generation?
It's worth mentioning that social media plays a very important part, not only in lead generation but also in helping you:
Build a stronger brand
Connect to those in your audience
Provide support
Answer questions
Build new relationships
And more…
For the sake of this comparison though, I'll be focusing on the lead generation side of social media only.
How does organic social media lead generation work?
This involves following or connecting with the right people (your potential clients) and then offering some kind of free lead magnet to generate leads and get them interested in what your business can do to help them.
How does paid social media lead generation work?
You pay money to social media channels (such as Facebook, Instagram, TikTok, LinkedIn or Twitter) in return to show adverts to people in your target audience (your potential clients).
Those adverts allow your potential clients to consume free educational content provided by you in return for their contact details (usually their name and email).
This allows you to collect leads (or data) on potential clients for you to follow up with later.
SEO vs Social Media Lead Generation – The Comparison
Both SEO and social media can produce excellent results when used correctly.
Here are the pros and cons for both channels.
SEO Lead Generation Pros
Google allows you to target people based on intent
When you're looking to buy something, where do you normally go?
That's right, Google.
You might search for "best [whatever service you're looking for] in [your area]" or something similar.
That is Google's biggest advantage.
When people are looking to buy something, people usually search for it on Google.
If you rank high on Google for keywords that indicate someone is looking to buy your services, you can usually get a high amount of leads, sales and conversions.
That's because on Google, you can target people who are actively looking for your services.
Google high intent leads also works the same way as YouTube lead generation.
Google PPC allows you to rank for keywords fast!
Although ranking organically on Google takes time, if you use Google PPC, you can rank for all kinds of different keywords almost instantly.
The short wait time and the fact you can target people who are actively looking for your services, also allows you to test how well your services, content and other offers will be received by those in your audience.
Google organic rankings have huge potential
Although it takes a long time to happen, if you do rank your website organically for lots of keywords related to your business and its services, you can generate leads at no cost every single day for years into the future!
You will rarely have to worry about generating more traffic, leads and sales in your business.
SEO Lead Generation Cons
You need to either pay or wait to rank for keywords
If you want to rank quickly for different competitive keywords, you have to pay Google to be there (through Google PPC).
Google PPC is also usually more expensive than social media advertising (especially when compared to Facebook ads).
And although ranking organically on Google has huge potential, it usually take a long time (weeks, months or even years – depending on how much competition you have).
You can't always target the right demographic on Google
Whether you do Google PPC or rank organically, anyone can search on Google.
This includes your competitors, people who might not have the budget to work with you or people who might not be the right fit for your type of company.
And yes, you can target people with some demographic information on Google, but it's nowhere near as powerful as the demographic targeting options you get on Facebook or LinkedIn.
For example, if you want to target CEO's of businesses in London which have between 50 to 250 employees, you can do this quite easily on LinkedIn.
On Google, however, with a paid advertising campaign (or ranking organically) you could be getting traffic from businesses that are much smaller, from competitors or others that are not a good fit.
Social Media Lead Generation Pros
Social media allows you to generate more leads
The truth is, not everyone who needs your services is searching for it
There are a lot of things I probably need or am thinking about buying. But I don't always search for it on Google. Why? I'm busy. And so are many more people these days.
However, on social media, I see relevant ads and content ALL the time.
Sometimes I see things I didn't even know existed through social media (so I would have never thought about searching for them) and think "wow, this is such a great solution for [a problem/challenge] I have".
Social media allows you to get in front of the right people AND present your solution to their challenges whether they search for a solution or not.
This means, in many cases, you can actually generate more leads on social media compared to Google PPC.
I know companies spending thousands on Google PPC and social media every day. And they all say social media is the no.1 traffic and lead generation channel for their business.
Social media has powerful targeting options
All the social media channels allow you to drill down and really find the right kind of people you want as clients.
The two channels that do this especially well are LinkedIn and Facebook.
See also: LinkedIn ads vs Facebook ads: Which is best to advertise on?
On Google, you can target people on age, location and some demographic information such as income, but they don't have that much data on people compared to Facebook and LinkedIn.
On social media, you can target people based on job titles, company size, location, and (one of my favorites) their interests.
Interests include things like:
What books do they read?
What business influencers do they follow?
What websites do they visit?
What Facebook pages have they liked?
What apps or software do they use?
And so on…
This really allows you to drill down and find the right kind of people for you and your business.
And with the right content, you can attract those people as leads, then follow up and nurture them into sales.
Social media allows you to generate leads from Google traffic
Another powerful social media feature is retargeting.
On Google (through PPC or organic SEO traffic) people will visit your website and then chances are, most people will leave without contacting you.
They might just be doing research, comparing options and so on.
This might also be the first time they've heard about you, so they still might not trust you enough yet.
With social media, you can track people that visit your website (or specific pages on your website) and then show them adverts when they go to Facebook, LinkedIn, Twitter, Instagram or even when they visit other websites on the internet.
The purpose of these retargeting social media campaigns is to generate leads and build trust with people that have already been on your website.
This type of retargeting is a very effective way to convert lost traffic from your website into leads.
(And, it's also very cost-effective to do this… you can get started by spending as little as £5 / $5 a day – depending on how much website traffic you get).
So, if you're not yet retargeting website visitors (such as people who visit your contact page, blogs or pricing page), you could be missing out on some quick wins for leads and sales.
You pay less to generate leads on social media
Although it differs from industry to industry, overall, Google has been found to be more expensive to generate leads.
However, don't let "more expensive" put you off. If you have to pay more for leads, but those are good quality leads you're generating a good ROI, it's not a bad thing.
But, there are probably some ways you can save money if you are doing Google PPC (see the "A balanced Google and social media strategy that works" section below).
Social Media Lead Generation Cons
Organic social media reach is (almost) dead
Okay, that's a bit of an exaggeration.
Organic social media is still alive and kicking. But it is on the decline.
Especially on Facebook.
Twitter, LinkedIn and Instagram still have pretty decent reach organically. But on Facebook, it's practically dead for business pages unless you do paid advertising.
On all social media channels though, one thing is for sure:
Because of increased competition and the fact that more businesses are flocking to social media, it's getting increasingly difficult to be seen unless you seriously stand out from the crowd (with amazing content!) or you do paid advertising – or even better, do both!
Social media channels are always changing
If you're thinking about using social media, you must know that this is a world that is changing fast. Algorithms and social media advertising platforms, such as Facebook and LinkedIn, are changing all the time.
What worked one month, might not work the next. Or, one feature that didn't work well the previous month, might work very well the next month.
So, if you want to do social media for your business seriously, you (or someone in your team) will need to invest the time to keep up to date with all these changes or you will need to at least hire a social media consultant or social media agency to help you.
A balanced SEO & social media strategy
So if you're thinking about using social media and/or Google for generating leads for your business, here is what I recommend: do a bit of both.
Focus on each channels strengths and use that to your advantage.
This is what you have to do:
Create SEO content on a regular basis
Creating content (blogs, articles, videos, etc) with keywords that people type in Google is one of the most powerful things you can do to rank organically.
It's crazy how many businesses are still NOT creating content on a regular basis.
This isn't optional anymore.
If you want your business to crush it online, you need to understand you're in the business of media (whether you like it or not) and you need to be creating content.
And it's that content that allows you to rank on Google for free!
Yes, it doesn't happen overnight, but in time, the more content you create, the more free targeted traffic you will start to get on Google.
On top of that, there are countless other benefits to creating content, including helping you build trust with your prospects so that they convert into clients and helping you generate leads.
So if you're not creating content: start today.
Hire a copywriter if you don't have the time to do it yourself or even check out our lead generation services and we'll help you do it. I don't care how you do it; just start creating content.
It is a long-term strategy, but one that is essential for success in this day and age.
Promote SEO content with social media
By doing step 1, you will have put in place a strategy that will help you generate free traffic from Google on a regular basis without having to spend any money on Google PPC.
However, if you're like me, you're probably thinking… "What can I do NOW to get some results?"
You can launch a social media lead generation campaign.
Since you're already focusing on getting traffic from Google by doing step 1, the social media lead generation campaign will allow you to use the content you're already creating to generate leads right now and to use that content to nurture and convert those leads into clients.
The sooner you can start generating leads and growing your email database the better and fast you'll be able to get results.
The fastest way to get digital marketing results for free will be with LinkedIn lead generation.
Launch a Google PPC campaign (optional)
If you want to maximize your results even more, now would be a good time to explore Google paid advertising.
I put step 3 as optional because in steps 1 and 2, you'll already be generating leads from social media and start to generate traffic from Google organically (for free).
However, if you want faster results with Google and you're hungry for more leads on another channel, you can run a Google PPC campaign while the content on your website is building up organic traffic in the background.
Over time, as you start to rank higher on Google organically as a result of your content creation and your social media campaign, you can test and see when it would be a good time to start spending less on Google ads and potentially redirect that budget elsewhere.
For example, if your website is already ranking first on Google for a phrase related to one of the services you provide, it might be a good idea to NOT spend money on Google PPC for that keyword and instead spend that money elsewhere (such as on Facebook lead ads).
READY TO GET STARTED?
I provide done-for-you lead generation services, as well as one-to-one lead generation training if you prefer to do everything yourself with an expert's help.
So, if you want to learn more, the FIRST step is to sign up for my free Masterclass training to learn how to generate leads on Google, LinkedIn, YouTube and Facebook by clicking here.
FAQs
What is SEO lead generation?
SEO lead generation is when you generate leads through organic Google searches. SEO (Search Engine Optimization) is the process of getting organic traffic from Google searches without paying for ads. And lead generation is the process of getting a potential client to raise their hand by giving you their contact information because they are interested in learning more about your services.
Does SEO help with lead generation?
Yes, SEO can help business owners with lead generation by ranking higher on Google for keywords that your potential customers are searching for. SEO is one of the most profitable and effective online lead generation strategies.
What is the difference between SEO and lead generation?
The difference between SEO and lead generation is that SEO focuses on getting traffic, meanwhile lead generation focuses on getting leads (the contact information of potential clients who are interested in working with you).
How do I use Google to generate leads?
There are two ways to use Google to generate leads. The first is by paying for Google ads. The second way is by using SEO. Paying for Google ads gets you quicker results with your lead generation strategy, but it is more expensive. SEO lead generation takes a longer time before you see results, but it is a lot more profitable in the long-term.
How can I automate SEO for lead generation?
To automate SEO lead generation, you need an automated appointment funnel that is designed to convert website visitors into leads and appointments. You can learn how to create this automated appointment funnel in 'Step 3' of this free training here.
How long does it take to get SEO results?
The time it takes to get SEO results, depends on how much content you create. The more content you create on a certain topic, the faster the results you'll see. It is recommended as a minimum to have at least 52 good quality articles about a certain topic before you start to see any significant SEO results.
How do you convert SEO traffic into leads?
The best way to convert SEO traffic into leads is to have links pointing to your sales funnel inside of your SEO article. The more links you have going to your sales funnel, the more likely you will be to convert SEO traffic into leads. To learn how to do this in more detail, see 'Step 4' of this free training.
What is the best way to get B2B SEO leads?
The best way to get B2B SEO leads is to use a lead magnet that solves a big painful problem your potential clients have. Make sure that website visitors give you their name & email in return for the lead magnet. And for best results, be sure to follow up regularly with any leads that you generate to increase the chances the leads will convert into clients.
Does SEO help with other search engines like Bing or Yahoo?
Yes, SEO and lead generation can help you rank higher on ANY search engines like Google including Yahoo or Bing. Google is the most popular search engine which is why most people focus their SEO effort on the Google search engine results pages.
Ashley Davis (or 'Ash' for short) is the CEO & Founder of Skyline Social. For over 15 years, he has been helping business owners with lead generation. Ash specializes in helping businesses get high-quality leads, appointments and clients each month in an automated, scalable and profitable way. You can watch his free Masterclass training to learn more.