In the past, marketers would spend countless hours on search engine optimization (SEO). But now, with AI SEO tools, SEO optimization is easier than ever!
However, with so many AI powered SEO tools it can be hard to know which ones will have the biggest impact on your website search engine rankings!
So, after testing the most popular SEO tools (and a few you probably haven't heard of!), I've put together a list of the best AI SEO tools.
These AI SEO tools will help you with keyword research, optimize content for higher rankings and even write high-quality long-form content at the click of a button!
Then, sit back, relax and watch your website's search engine rankings and organic traffic increase!
What is the best AI SEO tool? (Summary)
One AI SEO tool on its own is not enough to see results. For best results, you often need a combination of AI SEO tools.
With that in mind, here's a summary of my top 5 AI SEO tools:
Although I currently use all the SEO tools on this list for my business blog, you don't need to use every SEO tool. You can always start with one or two and add more later.
Do you want to learn how these SEO tools have helped my business and clients generate more leads and clients from SEO?
In my free Masterclass training, I go through how to get faster results with SEO using AI and other lead-generation strategies.
Be sure to check it out before you read the rest of this article!
What are the best AI SEO tools? 
1. Surfer SEO
Best overall
If you want your written content to rank higher on Google, SurferSEO is the AI-powered tool you need.
All you need to do is copy and paste your content into the AI SEO tool, and Surfer uses AI to analyze your search competitors. It then gives your blog post an SEO score out of 100. It then gives suggestions for improving your SEO content by adding relevant headings, images, keywords and more.
The higher the score, the better your content is optimized for SEO.
For example, as I write this article, you can see the SEO score here:
I first used Surfer SEO in 2022 to optimize the existing content on my blog. After optimizing my content with Surfer, I was able to triple my organic traffic, as seen here:
Click here to get a Surfer SEO Trial
And this was without creating any NEW content!
Fast forward to 2023, and onwards, I now use Surfer SEO to help me optimize every new blog post I create. As a result, my organic search rankings and traffic have continued to increase.
And it's not just me!
My clients and many other business owners have reported seeing huge improvements in organic traffic by using Surfer SEO.
I like that Surfer also has a Google Docs and WordPress extension, so you can access its SEO features offsite without being limited to its user interface. Plus, having the ability to share your Surfer content with others who don't have a Surfer account is very helpful.
Surfer Key Features
Content Editor provides useful SEO content recommendations
Do keyword research and get content ideas
Audit existing content to see how well-optimized it is vs competitors
Get suggestions on internal links for your blog
AI Outline Generator uses artificial intelligence to create a unique, SEO-optimized structure for your article.
Surfer Pricing
The Basic plan is suitable for small-scale organizations and costs $49 monthly.
The Pro plan is great for medium-scale organizations or freelancers with several clients and costs $99 monthly.
The Business plan is best for large-scale organizations managing multiple websites and costs $199 monthly.
The Enterprise plan has a customizable pricing system for people with very high SEO needs.
I'm on the yearly "Basic" plan in my own business, which works perfectly for me. Most of my clients are also on the same plan.
Click here to try Surfer SEO for free!
2. Content at Scale
Best for automating long-form content creation
Click here to get 20% more credits when you try Content at Scale!
Imagine a platform that can produce long-form unique, detailed, high-quality SEO-optimized articles and content within minutes. This AI-powered platform is so human-like its AI input is undetectable with AI detectors.
Content at Scale is that platform.
You see, this AI SEO software doesn't just help you create content; it actually writes the entire article for you!
In one month, I used Content at Scale to help me create 19 articles using artificial intelligence, as seen here:
This resulted in over 76 hours saved and $4,942 in estimated cost savings.
No other AI SEO tool produces such well-written long-form content. This is why it's my number one AI writing tool for creating long-form content with over 2,000+ words.
However, as great as this sounds…
Just remember, this SEO tool is still not perfect.
Human input, like fact-checking and minimal editing, is still necessary.
Even so, this AI SEO software still saves you a LOT of time compared to doing everything yourself from scratch.
Key Features of Content at Scale
It produces long-form SEO-driven content of over 2,000+ words in minutes. 
It is integrated with Copyscape for plagiarism checks.
It has a system that bypasses AI content detection.
Its WordPress plugin syncs content and automates internal and external link building.
It formats the articles with headings and call-to-actions
Article quality is very high compared to other SEO AI tools
Content at Scale Pricing
Content at Scale pricing starts from $250/month upwards.
In my own business, I'm on the "Solo" package which allows me to create 8 blog posts per month using this AI software. You can get 20% more credits for any plan if you use my referral link here.
Although it might sound expensive, when you think about it, it is much cheaper than the cost of hiring copywriters. 
For example, the cost per blog post with this AI SEO software ranges from $15 to $31.
It will be very difficult (if not impossible) to find a content writer who can create 2,000+ word blog posts for this cheap!
Compared to other AI writing tools, it is more expensive.
But at the same time, in my experience, it creates more "finished articles" much faster compared to most other AI writing assistants. For this reason, I often prefer using this AI writing SEO tool instead of others.
Overall, Content at Scale is one of my top-rated AI SEO software tools to generate high-quality leads, appointments sand clients organically. It's among my top choices in my list of best AI lead generation tools.
Click here to try Content at Scale & get 20% more credits!
3. Jasper AI
Best AI writing assistant
Click here to get some FREE bonus credits when you try Jasper!
Looking for a reasonably priced AI copywriting tool that helps you create top-class SEO content faster? Then, you'd like Jasper AI.
This well-known AI SEO software analyzes keywords and prompts and uses natural language processing to generate content.
I like that Jasper consistently makes improvements and develops better features to take your content game to higher levels. For example, they recently introduced a new feature called "AI Branded voice" that allows your content to have the right tone of voice, as seen below:
That's not all.
You can even tell it specific information about your business and brand that it remembers and uses when creating content on your behalf, as seen here:
Jasper also integrates with SurferSEO. So you have an AI-powered tool that generates entire articles working seamlessly with a tool that optimizes content for search engines. I'd call that enjoying the best of both worlds. 
Key Features of Jasper AI
You can generate long content of up to about 1,000 words (it's not as many words as Content at Scale's 2,000+ words though)
Jasper Chat is an interactive AI, similar to ChatGPT, that works as a great writing assistant.
You can take your assistant along as you work online using Jasper's Chrome Extension. 
It has a SurferSEO integration for keyword optimization.
It creates creative and SEO-friendly content in over 29 different languages.
Jasper AI Pricing
The Starter plan is approximately $40 monthly for about 35,000 words.
The Boss Mode plan costs about $82 monthly for approximately 100,000 words.
The Business plan is customizable.
For my own business, I'm on the "Boss Mode" package with a yearly plan.
Click here to get 10,000+ free words when you try Jasper for free!
4. Grammarly
Best for editing grammar
You most likely have already heard of Grammarly, as it is the most popular online grammar checker tool. Even with the free version, you can create bolder, more direct, and grammatically correct content that would rank well on SERPs. 
I use Grammarly to help improve the quality of my blog posts as part of my content strategy. It helps me simplify what I say and fix grammatical errors.
But if you're like me and you want more…
Grammarly's premium version provides advanced professional content suggestions in line with your selected writing settings. There's also something new Grammarly just launched. It's called GrammarlyGO. It's an interactive AI feature that has been a great writing assistant for me.
Grammarly Key Features
GrammarlyGO is a new assistive AI feature that helps with content optimization.
It has a strong proofreading technology that detects punctuation, spelling, syntax, and grammatical errors.
It has an in-built plagiarism checker.
It provides tailored suggestions based on your selected writing tone and style.
It has a useful Google Docs integration that makes content writing much easier.
It also has a Chrome extension.
Grammarly Pricing
It has a free version.
Its annual premium plan costs $144.
Its quarterly premium plan costs $60
Its monthly premium plan costs $30
For my own business, I'm using the annual Grammarly premium plan which includes the GrammarlyGO AI features.
5. Hemingway Editor
Best free AI SEO tool for readability
The Hemingway Editor is a great automated AI SEO software that I believe is essential to content intended for search engines.
If you want your content to do well, it must be very easy to read.
And the Hemingway Editor will highlight difficult-to-read sentences, complicated words, passive voice, and other readability flaws in your work. 
As such, this AI-powered tool will lead to greater conversions and a better Google page experience.
You can either write online on the tool or paste your content for a readability scoring. I prefer to copy and paste my content into the SEO software and then aim for a grade of five or less for better SEO results. 
I use Hemingway Editor whenever I want to make my content easier to read. I recommend using it to help with readability content optimization. For best results, when using the tool, try to make sure your content is reading at a 5th-grade level or lower.
The easier your content is to read, the more conversions your content will likely get.
Key features
The tool has a color-based highlighting mechanism for complex, wordy sentences and obvious errors.
After editing on the desktop app, you can export your work directly to your website, Medium or WordPress.
It has a readability scoring feature.
Pricing
Hemingway Editor is free. However, its desktop app for Macs and PCs is about $20. I only use the free version of this AI SEO software.
6. ChatGPT
Best free AI SEO tool
ChatGPT is one of the best AI SEO tools available. It allows you to do almost everything from keyword strategies to help with the content creation process.
Best of all, ChatGPT is super easy to use.
You just type in what you want the tool to do and (in most cases) it will do it for you.
For example, you can ask ChatGPT to:
Create a 1,000 word article on why blogging for SEO is important
Research the best keywords to grow your website traffic in a specific industry
Give you content title ideas to increase clicks in the search engine results pages
Help you with on page SEO
And more!
ChatGPT is truly an incredible tool that uses artificial intelligence to make your SEO efforts 10x easier.
This AI powered SEO tool probably won't be free forever, so make the most of it while you can.
Is ChatGPT perfect?
No.
The biggest downside to using ChatGPT as SEO Software is that it doesn't go very "deep" on search engine optimization tasks compared to other AI SEO tools on this list.
For example, it can't optimize your existing content in the same way SurferSEO can. It can't create 2,000 word articles with properly structured headings like Content at Scale can. And the natrual langauge processing it uses hasn't been trained to write marketing copy as effectively as Jasper.
However, for a free AI SEO tool, you can't really go wrong with ChatGPT.
I'd highly recommend it!
Just make sure you fact check and edit the work done by ChatGPT if you decide to use it. It's not always 100% accurate.
7. Yoast SEO
One of the best WordPress SEO tools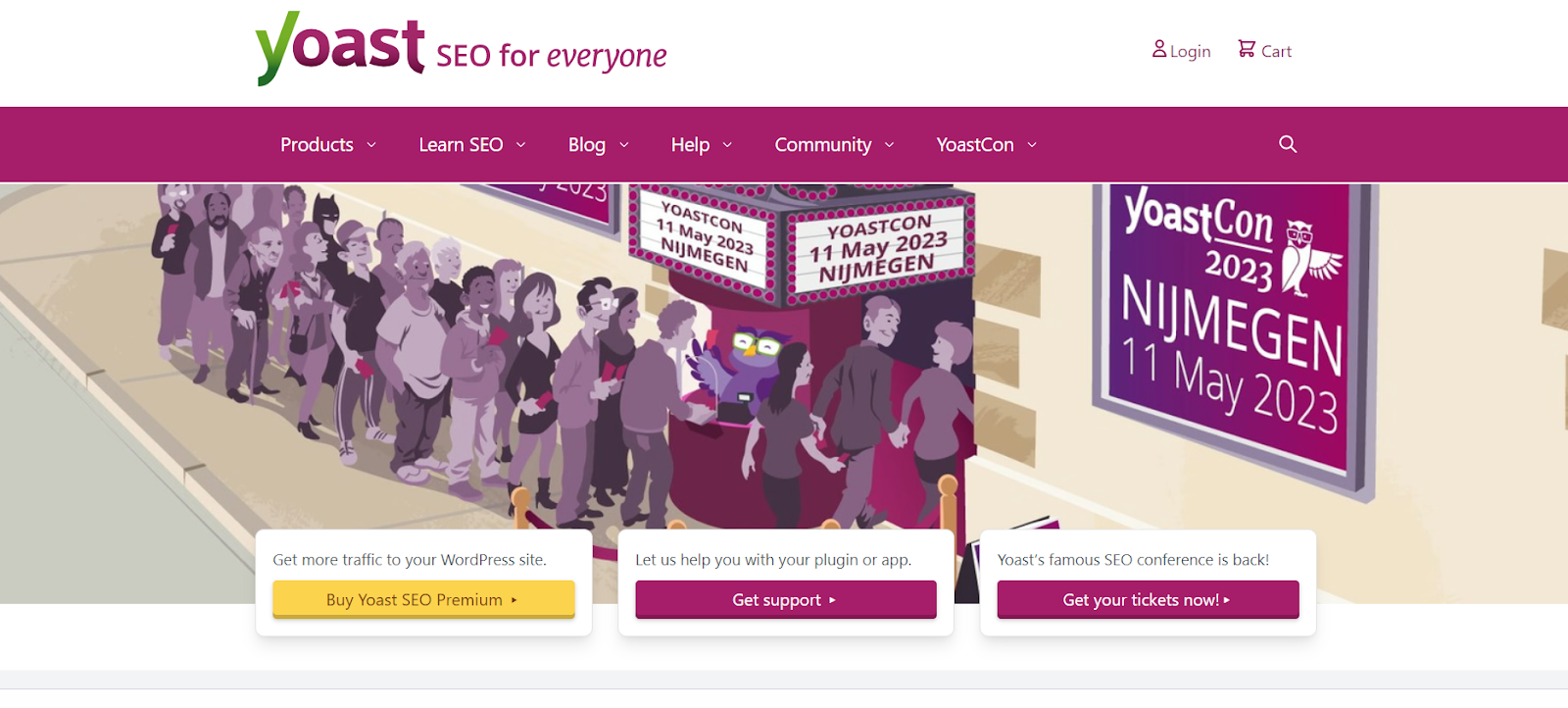 Yoast SEO is an SEO plugin you can install on WordPress or Shopify website. It offers multiple AI-powered SEO features to put your website on the radar. For instance, its "Insights" tool provides a comprehensive content analysis and recommends readability and keyword optimization improvements. 
Furthermore, in my experience, their support team is top of the class. They encourage you to bug them with SEO-related questions.
Yoast SEO Key Features 
Yoast SEO offers on-page optimization involving providing content analysis.
It has an efficient social media integration allowing users to preview social media posts.
It has an automated XML sitemap generation system.
It provides an in-built redirect manager for redirecting old URLs to updated ones.
It has a premium version with advanced features.
I use the Yoast SEO Premium plan in my business because it gives me access to 301 redirect features. This feature helps you avoid broken pages on your website which could negatively affect your search engine rankings.
Yoast SEO Pricing
Yoast SEO offers several products. However, these are the most relevant to SEO content optimization.
Yoast SEO Premium WordPress plugin costs $99 yearly, including free updates and technical support.
Yoast Local SEO WordPress plugin costs $79 yearly with free updates and technical support.
Yoast SEO for Shopify costs $19 monthly with a 14-day free trial.
The package I use for my blog is the Yoast SEO Premium version. Most businesses providing a service will probably fit into this category.
8. Google Search Console
Best free SEO tool for search engine performance analysis
Google Search Console is a free SEO tool that tracks your website's search traffic and SEO performance. It helps detect and troubleshoot issues affecting your website's ranking in Google Search results. This tool offers multiple state-of-the-art technical features for SEO optimization. 
My favorite feature of the Google Search Console account is the "Search Console Insights" feature, as seen here:
This tells you how well your content marketing strategy is working by giving you on data on how well your latest articles are performing in Google's search engine.
This SEO tool is a must-have for business owners, SEO specialists and marketers.
You can get reports for indexing problems, internal and external linking, and other troubleshoots. These reports will give you insight into your site's performance so that you can improve and optimize it for the best results.
Google Search Console Key features
You can use this tool to fix indexing problems.
It lets you study your website's Google Search traffic data and keyword ranking.
It integrates with Google Analytics data
You can use it to ascertain whether your site is visible for crawling.
You can submit new pages you create to be indexed by Google
It sends alerts when Google encounters any issues on your website.
It shows you the external websites linking to your website and analyses backlink data.
It troubleshoots issues with certain Search features.
It's from Google so you know the information and data is trustworthy
Pros of Google Search Console
Cons of Google Search Console
9. Ahrefs
Best for keyword research
Wonder what SEO tool many world-leading businesses use for SEO keyword research? That's Ahrefs! This SEO tool can grow your website's search traffic organically. It achieves this by researching users' competitors, keywords, content ideas, and SEO strategies.
Here's a fun fact.
Ahrefs has over 19 billion keywords from 10 search engines around 242 countries. This makes it one of the largest keyword databases in the world. You'll be sure to find the right target keyword for your articles with this AI SEO software.
How does Ahrefs use artificial intelligence?
Ahrefs uses AI to analyze millions of keywords you and your competitors rank for. It then gives you practical suggestions on which keywords would be good for you to target.
I use the Ahrefs keyword research tool monthly to discover new profitable target keywords for my business blog. Ahrefs makes researching the best keywords to target much more easily than doing this yourself.
Ahrefs Key Features
It has an organized dashboard with an efficient user interface to view all your existing projects and track their SEO progress.
You can analyze competitors' organic search traffic, backlinks, and rankings with Site Explorer.
The Keywords Explorer will allow you to discover the perfect keywords from over 19 billion keywords in the expansive database.
You can scan your website for any SEO-related issues with the Site Audit feature.
The Rank Tracker helps to monitor your keyword ranking and performance.
The Content Explorer helps you discover the best-performing content for any topic or keyword.
Ahrefs Pricing
The Lite plan is perfect for small businesses and starts at $99 monthly.
The Standard plan is ideal for marketing consultants and starts at $199 monthly.
The Advanced plan is suitable for large marketing teams and starts at $399 monthly.
The Enterprise plan best suits agencies and starts at $999 monthly.
In my business, the "Lite" plan for $99/month is what I'm using. It does everything I need for SEO keyword research.
10. Start Blogging Blocks
Best for page aesthetics
Did you know Google looks at your page experience to decide how well your website should rank? Yep, so, even your content layout has a role to play in your SEO strategy.
And pre-designed block templates can help make your blog posts look beautiful and increase the chances that people stay on your website for longer. This reduces bounce rate and improves your SEO efforts.
That's where Start Blogging Blocks comes into play.
This SEO tool provides several pre-designed content blocks and allows users to customize them with their content. Of course, the best layouts are mobile-friendly, have a convenient interface, and are optimized for search engines. 
You can see Start Blogging Blocks in action in this very blog post! For example, I use it in the FAQ section and the "Pros and Cons" boxes you see on this page. You can see more examples of how I use this SEO tool in my Kartra review post.
Key features
Start Blogging Blocks provides fully customizable, mobile-friendly blocks.
The blocks offered include CTAs, product boxes, sales funnels, table of contents, SEO-friendly content, pricing tables, FAQs, and more.  
It is conversion-focused and designed to grow affiliate commissions with time.
It was developed with the support of Kadence Blocks, which has a built-in WordPress editor. 
It is designed to ace Core Web Vitals to boost your site's Google ranking. 
Its AI feature automatically aligns your brand's color palette to the site.
Start Blogging Blocks Pricing
The Lite plan costs $49 annually for five websites.
The Plus plan costs $99 annually for 30 websites.
The Unlimited plan costs $199 annually for unlimited websites. 
However, if you use my referral link here, you can use this SEO tool for free. And you'll even get access to a lifetime account (with a big discount) if you decide to upgrade.
Pros of Start Blogging Blocks
Cons of Start Blogging Blocks
11. Nitropack
Best for SEO site speed optimization
Nitropack is one of the best AI SEO tools for site speed optimization. Because page speed is a ranking factor of the Google algorithm, it's important that your website loads as fast as possible.
One way you can do this is by using Nitropack.
I used Nitropack to optimize my websites page speed and my PageSpeed Insights score jumped from "bad", as seen here:
To "good" as seen here:
As you can see, Nitropack used AI to optimize my whole website in just a few seconds and massively improve my Google PageSpeed Insights score.
What I love about Nitropack is how easy it is to use compared to other SEO tools that help you optimize your website page speed. Nitropack can be installed on your WordPress blog in just a few minutes and the results are almost instantaneous.
Click here to try Nitropack for free!
12. Ezoic
Best SEO software for AI SEO monetization
There are many AI SEO tools for making sure you have optimized content. But what about AI SEO tools to help you not only rank high on search engines, but also make money from your website?
This is where Ezoic comes in!
Ezoic is a free all-in-one SEO monetization plug-in. With Ezoic installed on your website, you'll be able to get paid to run ads on your website.
Best of all, if you use Ezoic to optimize your website with ads, you can also use Ezoic to optimize your website page speed using Ezoic Leap.
This allows you to replace Nitropack and other SEO tools to optimize your website page speed. And you get paid to do so!
But what if you don't want ads on ALL pages of your website?
That's okay! You can pick and choose which web pages have ads. You can also select how many ads appear and where they appear on your articles.
Unlike other blog monetization tools which require your website to have at least 20,000 visitors each month, Ezoic has no minimum requirements. So anyone can join – no matter the size of your website!
Click here to sign up for Ezoic for free!
The bottom line
Whether you're a blogger, business owner, or digital marketing agency, you must pay attention to your ranking on SERPs to drive traffic to your website. Unfortunately, ensuring your content appeals to your target audience and the algorithm can become increasingly complex. 
I completely understand this.
Thankfully, AI SEO content optimization tools help to take the steam off. These AI SEO tools assist in keeping track of the keyword usage, structure, and readability of your content. By combining their strength with up-to-date knowledge of SEO practices, you'd stay well ahead of the competition. 
And you know what that means…
You'll attract more visitors to your website. And for business owners, this traffic can be converted into sustainable sales appointments. How? Watch my free training to find out. 
Frequently asked questions (FAQs)  
Ashley Davis (or 'Ash' for short) is the CEO & Founder of Skyline Social. For over 15 years, he has been helping business owners with lead generation. Ash specializes in helping businesses get high-quality leads, appointments and clients each month in an automated, scalable and profitable way. You can watch his free Masterclass training to learn more.