When it comes to lead generation, artificial intelligence (AI) is becoming an increasingly popular option for sales teams who want to get more qualified leads.
Using AI-powered lead generation strategies allows business owners to:
Get more leads on autopilot
Save time by automating simple tasks
Increase profit margins
Save money by not having to hire additional people
Because of these and many more reasons, business owners are using AI more often in their lead generation process.
AI lead generation software on its own is NOT enough to get results. You need an excellent marketing strategy to go with the software you use.
A tool is only good if you use it the right way.
So with that in mind…
Click here to watch my free training FIRST which explains the strategy to get 10, 15, 30 or more high-quality appointments each month with your ideal clients on autopilot!
What is the best artificial intelligence lead generation software?
AI tools are growing in popularity every day. But with so many AI tools to choose from, how do you know which ones are best for you?
Each AI-powered lead generation tool usually focuses on ONE specific area.
Therefore, the best AI-powered lead generation software all depends on YOUR lead generation strategy and goals.
So, before choosing any lead generation AI tool, ask yourself:
Do you already have an effective lead generation strategy in place?
If not, be sure to watch my FREE Masterclass training here, to see the lead generation strategy we use for our own business and clients to get high quality leads and appointments each month on autopilot.
Once you have the right lead generation strategy to get qualified leads, you can start using AI lead gen software to save time and money by automating most of the hard work.
To help you, here is a list of the 15 best AI lead generation software and tools to help improve your lead generation efforts:
1. The Sales Accelerator
Our Pick
The Sales Accelerator
The Sales Accelerator is a program that leverages AI to help you generate leads, appointments, and clients in a way that is automated, predictable, scalable and profitable.
Pros:
Cons:
2. Customers.AI
Best for generating leads from anonymous website visitors
Click here to try Customers.AI for free!
Imagine being able to generate hundreds or even thousands of WARM leads each month by simply adding one line of code to your website or sales funnel. Well, that's exactly what Customers.AI allows you to do.
How does Customers.AI work?
Step 2: Copy + paste one line of code on your website
Step 3: In real time you'll start to see the name & email of people who visit your website (it finds about 30% of your website visitors)
Step 4: Customers.AI will automatically reach out to them (you can personalize this email using AI)
Step 5: If the lead is interested, they'll be added to your sales funnel software
How does this help you?
Most people that visit your website or sales funnel landing pages will leave without taking any action. But now, with Customers.AI, you can recover hundreds or even thousands of lost leads.
What kind of results will you see?
In our tests, we've been able to effortlessly 5x the amount of leads we generate every day. But are the leads good quality? Yes. The leads are good quality because they are leads from people who have already visited our website and have shown an interest in what we do.
For example, here's a screenshot of how I am tracking people that visit specific pages of my website:
For each of these website visitors, I have customized outreach messages that are automatically sent out using this software.
And because the quality of leads are so high, my email open rates have been over 80%!
What I like & dislike about customers.AI
Final thoughts on customers.AI
If you run ads, already have a high converting salse funnel and you get traffic going to your website then this AI lead generation tool is a must-have. As soon as you sign up, you'll be able to instantly boost how many leads and clients you get each day.
Click here to try Customers.AI for free!
3. Meet Alfred
Best for LinkedIn Lead Generation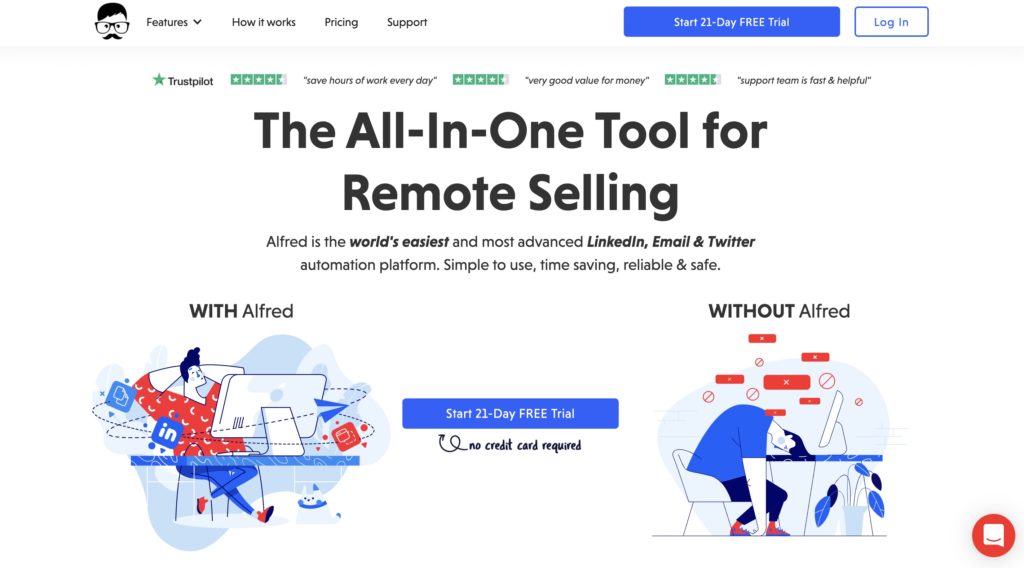 Meet Alfred is an AI-powered lead generation tool that allows you to get more leads on LinkedIn by sending automated LinkedIn invitations and messages to potential clients.
What I like & dislike about Meet Alfred
How Meet Alfred Works
Meet Alfred uses AI to tailor your LinkedIn messages to the prospective customers you're speaking to.
To use Meet Alfred, all you need to do is:
1) Connect to potential clients
2) Message potential clients
3) Follow up with potential clients
In theory, LinkedIn lead generation using AI is easy.
But in reality, a lot of people do this the wrong way (using spammy and annoying tactics).
See 'Step 4' of my FREE masterclass training to learn how to DOUBLE your LinkedIn leads and sales appointments without being spammy or annoying
Meet Alfred final thoughts
Overall, Meet Alfred is a solid AI powered LinkedIn lead generation tool and it's worth checking out if you want to get new leads through LinkedIn, Twitter and cold email.
I've been using Meet Alfred for years, and it's one of my favorite LinkedIn lead gen tools.
To learn more about using LinkedIn to generate quality leads, be sure to watch 'Step 4' of my Free Masterclass training by clicking here.
4. Surfer SEO
Best for SEO lead generation
Surfer SEO is an AI-powered SEO tool that helps you optimize your website's content, so it appears higher on search engines.
How does Surfer SEO help you?
Without Surfer SEO, you would need to manually analyze all the websites at the top of Google for a certain keyword phrase.
With Surfer SEO, this analysis is done for you in seconds.
Then Surfer SEO translates all this data into an easy-to-understand list of actions that you need to take to improve your content to help it rank higher on Google.
As you improve your content following the suggestions by SurferSEO it will give you a content score out of 100.
The higher your score, the better optimized your content is.
You can increase your score by:
Having the correct word count
Using the best keywords
Including the most relevant headings
And more
For example, as I write this article right now, I'm using SurferSEO.
Here's a screenshot of my Surfer SEO score so far:
And if you found this article on Google, there's a good chance it was because of the optimization done by Surfer SEO.
Does Surfer SEO really work?
Yes, using Surfer SEO really does help your website rank higher on Google.
Since using Surfer SEO I've been able to triple my website organic traffic in just a few months, as seen here:
And as I write this article, organic website traffic is still increasing by 10-20% each week as long as I continue to write articles using Surfer SEO!
To learn more about how to use SEO to generate leads each month, be sure to watch 'Step 4' of my free Masterclass training by clicking here.
5. FastBots.AI
Would you like a salesperson who can convert leads into clients for you 24/7? That's exactly what FastBots.AI is designed to do.
How does it work?
In just a few minutes, FastBots.AI reads your website, YouTube channel, and any other information you feed it.
It then uses this information to talk to leads and convert leads into clients.
The result?
With FastBots you now have a virtual sales assistant for your website's product or services.
How much does it cost?
FastBots.AI is free to use and you can set up an AI sales chatbot in less than 5 minutes.
If you have a marketing company, you can also white-label FastBots and re-sell it to your clients.
Click here to try FastBots for FREE!
6. Kartra
Best for AI marketing automation
Kartra is one of the best all-in-one funnel builders with built-in AI marketing automation features to help your business grow rapidly!
I've used Kartra in my own business for many years after testing a LOT of different funnel-building tools (see my Kartra review).
Kartra is, without a doubt, my favorite funnel-building tool.
It's a rock-solid sales funnel solution for handling almost everything to do with lead generation and marketing automation in your business.
How Kartra Works
Kartra works by providing businesses with a platform that has everything they need to grow online. This means you can use Kartra to:
Design landing pages
Create sales funnels
Send automatic follow up emails
Sell products online
Have online memberships
Automatically generate leads
And lots more
Kartra also uses AI marketing automation rules to customize the marketing communications your leads see.
For example, if a lead has purchased from you in the past, Kartra can block them from seeing a special discount offer that only non-customers can see.
Or, if a lead has opened a lot of emails but hasn't yet converted into a client, Kartra can automatically send them an email or SMS with a coupon code to get them to finally make a purchase.
You can create your own Kartra automation rules by logging into Kartra and clicking on "My Communications" > "Automations" as seen here:
There are almost limitless possibilities with Kartra's marketing automation features which makes Kartra a very powerful funnel-building tool in the right hands.
Watch 'Step 5' of my Free Masterclass training to see how you can get access to my done-for-sales funnel which runs on Kartra.
What I like & dislike about Kartra
Kartra Pros
A complete all-in-one platform
Integrates with many different tools and services
Uses AI to customize marketing messages for leads
Cheaper than buying individual software
Kartra Cons
Because it can do so much it can be overwhelming for beginners
No phone support (email and live chat support only)
AI marketing automation rules need to be manually created by you first
Kartra final thoughts
Kartra is in my opinion the best and easiest funnel building tool on the market right now if you want to automate most of your marketing.
Like the sound of Kartra?
Click here to get a 14-day Kartra trial
7. InboxPro
InboxPro is an AI-powered tool that helps you create a predictable customer acquisition system through four key features: AI, merge tags, automated email sequences, and a calendar.
How does InboxPro help you?
The email sales funnel consists of lead generation, nurturing, and closing.
With InboxPro, you only need to focus on closing the sale because everything else is fully automated.
The process is as follows:
You have a list of emails and names from any source (e.g., LinkedIn).
You compose the emails you will use for the sequence. You utilize the AI email assistant, which not only provides suggestions but also allows you to set the tone of voice based on the customer type.
You create a sequence with a specific goal (e.g., scheduling a call) and set time intervals and triggers (e.g., an email every two days if the recipient hasn't read it).
You use merge tags to personalize the communication with recipient-specific details such as their name, company, etc.
You utilize the calendar to avoid back-and-forth emails, enabling recipients to choose their preferred date and time.
This way, whenever you obtain more leads, you simply add them to the sequence and wait for them to schedule a call with you.
What do I like about InboxPro and what are its drawbacks?
InboxPro Pros:
It is an all-in-one solution.
It leverages AI to create email sequences.
It is a cost-effective solution compared to acquiring individual tools separately.
InboxPro Cons:
Currently, it only works with Gmail.
You need to have a pre-existing email list, whereas other solutions allow for the automation of this step as well.
Final thoughts on InboxPro
InboxPro is an excellent option for creating sales funnels, especially for small marketing teams looking to automate lead-generation processes.
You can try many of its functionalities for free, and if it meets your needs, you can start with a budget-friendly plan for just $24/month.
Would you like to give it a try?
8. useArtemis
useArtemis is a LinkedIn lead generation tool that uses AI to help you generate leads. It can help you with a variety of lead generation tasks – from scraping LinkedIn search results to enriching and launching multi-channel campaigns via LinkedIn and emails. 
With its Email Finder + Multichannel Campaigns feature, you can automate the process of finding potential leads, verifying their contact details, and initiating outreach campaigns
useArtemis Pros:
Built-in enrichment system
Built email verifier
Powerful & easy to use outreach campaign
Nice UI
Use AI to personalize outreach
use Artemis cons: 
Doesn't have a domain search function unlike other tools
How does useArtemis work 
useArtemis is easy to use. The first step is to install the Chrome extension. It will allow you to extract leads from LinkedIn and Sales Navigator. All you have to do is make a search on LinkedIn and launch the useArtemis extension to extract leads.
Once extracted they will be automatically enriched.
You will then be able to create a campaign to target this list that you just enriched.
In the campaigns you can do the following steps : 
LinkedIn message
LinkedIn invites ( and send notes with AI )
LinkedIn visits
Twitter follow
Emails
Multiple conditions & filters 
Click here to try useArtemis for free!
9. Jasper.AI
Helpful SEO AI Writing Tool
Jasper.AI is an AI-powered writing assistant that helps you write better content faster. On average I've found Jasper saves about 2-4 hours for each 3,000-word article you write.
They also released a new feature called "Jasper Campaigns" which allows you to create the marketing copy for your whole lead generation campaign in minutes.
This includes Facebook Ads, landing pages, YouTube videos, follow up emails, website copy and more!
What I like & dislike about Jasper
Jasper AI Pros
Saves you many hours when creating content from scratch
One of the best (if not THE best) AI content creation tools
Helps you overcome writer's block
They recently launched an AI image generator called Jasper Art
Integrates with SurferSEO (see below)
Jasper AI Cons
It's not perfect. The AI tool can sometimes make mistakes.
Some of the content you create still requires manual editing / proof reading
How Jasper.AI works
Jasper.AI uses natural language processing (NLP) and AI to create original content for your blog, sales copy, paid ads, email marketing and more.
You simply tell Jasper what your content is about and it creates the content for you.
I've been using Jasper (formally known as Conversion AI & Jarvis) for a while now and it has saved me lots of time when creating SEO content.
Here's a video review & demo I published about using this tool:
Jasper AI final thoughts
Overall Jasper is, in my opinion, the best AI writing assistant tool. However, I'd like to emphasize the "assistant" part. It's a great tool if you need help writing content, but you'll still need to edit the content and double-check it for accuracy.
10. Lunchclub
Lunchclub.com is an AI lead generation app that you can use to network with people online.
How does Lunchclub work
Lunchclub allows you to connect with like-minded people to grow your network of professional relationships. You can download the app on the app store of your smart phone.
Lunchclub uses AI match you with people that you're likely to have a positive business or professional connection with. The more that you use the app, the better the AI gets at matching you with potential clients, strategic partners or even people you could potentially hire in the future.
What I like & dislike about Lunchclub
Lunchclub Pros
You can connect with people from all over the world
Grow your professional network
Find potential clients or strategic partners
Allows you to network online from the comfort of home
Works on your phone
Lunchclub Cons
Requires a lot of manual time to network online
It can take time to build strong customer relationships
Lunchclub final thoughts
Lunchclub is a great networking app which combines AI to make networking with people easier and quicker.
If you already do any business networking, you could very easily integrate Lunchclub with your lead generation process to get even more leads.
11. Shapr Networking
Shapr networking is is similar to Lunchclub. Shapr boasts about being the number one networking app with over 2.5 Million users (60% in the US) for entrepreneurs.
Think of Shapr like going to a networking event which is 100% online.
How Shapr Works
Shapr allows you to connect with like-minded people to grow your network of professional relationships. You can download the app on the app store and it uses AI to automatically match you with the kind of people you're looking to speak with. The more you use the app, the better the AI gets at matching you with the right people.
What I like & dislike about Shapr
Shapr Pros
You can connect with people from all over the world
Grow your professional network
Find potential clients or strategic partners
Helps with other services outside of lead generation (such as recruitment, business funding and finding strategic partners)
Easy to use
Works on a smart phone
Shapr Cons
Requires a lot of manual time to network online
In some industries, it could be hard to find your target audience
Shapr Final thoughts
If you're looking for a great alternative to networking in person, then Shapr Networking might be just what you're looking for. It's also completely free to use which is a nice bonus!
12. CoPilot AI
CoPilot AI is a LinkedIn lead generation tool that helps you have AI-powered conversations with prospects on LinkedIn.
How CoPilot AI works
CoPilot AI will analyze your LinkedIn profile and target the best prospects for you. You can then start conversations with these prospects using CoPilot's messaging features.
CoPilot will also help you keep track of your conversations and follow-ups.
They are also testing a new feature called CoPilot AI video which allows you to record personalized videos quickly and effectively for LinkedIn prospects with the help of AI.
CoPilot AI final thoughts
CoPilot AI is a great tool, but the only downside is the price which start at $389/month and is a lot more expensive compared to other LinkedIn automation tools such as Meet Alfred which is only $49/month.
However, on the bright side, their AI video tool is completely free right now (at the time of writing this article). You can sign up for access by clicking here.
13. LeadIQ
LeadIQ is another great AI-powered solution for lead generation. This tool uses machine learning to automatically find and collect data about potential customers.
LeadIQ can also help you segment leads, track their engagement, and score them based on their likelihood to convert.
How LeadIQ works
LeadIQ works by connecting to your email account (Gmail, Outlook, etc.) and scanning your inbox for potential leads.
It will then collect data about these leads, such as their name, title, company, contact information, and more.
You can also use LeadIQ to segment your leads and track their engagement.
What I like & dislike about LeadIQ
LeadIQ Pros
Automatically finds and collects data about potential clients
Segments leads
Tracks engagement
Scores leads based on likelihood to convert
LeadIQ Cons
Data accuracy can be questionable at times
Cannot track leads that are not contacted through email
It can be expensive for smaller businesses
Limited integrations
LeadIQ final thoughts
Overall, LeadIQ is an excellent tool for lead generation. It is easy to use and can help you collect a lot of data about potential customers.
LeadIQ offers a free plan, and then pricing starts at $60/month for the Basic plan and $120/month for the Pro plan.
14. Drift
Drift is an excellent tool for lead generation and sales. This tool uses lead generation bots to automatically engage with potential customers on your website.
Drift can handle complex sales conversations, capture leads, schedule appointments, and more on autopilot.
How Drift works
Drift works by installing a chatbot on your website. When someone visits your website, the lead generation bot will automatically engage with them.
The AI chatbot will then try to help the person find the information they're looking for (and in most cases it does a really good job!).
What I like & dislike about Drift
Drift Pros
Automatically engages with new customers
Easily captures leads when prospects start chatting to you
Can schedule appointments automatically
Helps your sales team qualify lead

Automatically generate leads without human input

Smart bot can be programmed to respond to all kinds of queries
Competitive pricing
Drift Cons
Chatbot engagement can be too aggressive for some people
Some people prefer to speak to a human instead of a chatbot
Cannot track leads that are not contacted through chat
Requires some time to set everything up
Drift final thoughts
Drift is an excellent AI chatbot that can help you generate leads from website visitors. You can test it out for yourself by visiting Drift and speaking with their lead qualification bots (the lead bots will pop up as soon as you visit their website).
You can also start using Drift on your website for FREE. However, if you want to use their advanced AI features, then you will need to upgrade to a paid plan.
The pricing will depend on the amount of usage and you'll need to provide your email address to get a proper quote.
15. Seamless.AI
Seamless.AI is sales tool that uses artificial intelligence to fill in the gaps of incomplete contact information of your leads.
How does Seamless.Ai work
If you've generated a new lead and only have a contact's name and email address, Seamless.AI can find out the leads phone number, social media profiles, business website address and more.
This can help your sales team get better results when speaking to leads. The more you know, the better you can personalize your outreach.
Seamless.AI also allows you to build a new email list using AI automatically.
What I like & dislike about Seamless.AI
Seamless.AI pros
Automate list building
Great for b2b leads
Enrich existing lead data
Integrations with 3rd party tools
Easy to use
Great for sales teams
Good customer support
Seamless.AI cons
Data isn't always 100% accurate
Seamless.AI Final thoughts
Overall, Seamless.AI is great for if you want to have a productive proactive approach to b2b lead generation. As a bonus, you can also use Seamless.AI to build b2b leads lists that you can retarget on Facebook ads.
Seamless.AI has a free plan with 50 credits per month for you to try it out. The paid plan starts from $147/month (billed annually) for 250 credits per month.
A credit is used each time Seamless.AI researches a contacts information (such as name, email and phone number).
16. Outreach.io
Outreach is an Artificial Intelligence-powered lead generation tool that makes it easy to scale your outreach efforts. With its automated emailing and personalized templates, Outreach can help you connect with more prospects in less time.
How Outreach.io Works
Outreach.io is a cloud-based lead generation tool that helps you automate your outreach efforts. With Outreach.io, you can create personalized email templates and use the tool's built-in CRM to manage your leads and contacts.
To get started with Outreach.io, simply sign up for an account and connect your email account. Then, create a new campaign and begin adding contacts. Outreach.io will automatically send emails to your prospects based on your chosen campaign settings.
What I like / dislike about Outreach
Outreach.io Pros
Automatically sends emails
Automatically makes phone calls
Easily tracks engagement
Helps with sales
Can be customized to fit your needs
Real-time call analytics
AI helps you before and after selling to leads
Outreach.io Cons
Can be expensive for some businesses
Doesn't integrate with Zapier
Outreach.io final thoughts
Outreach.io is a great lead generation tool for sales teams who want to automate their outreach efforts.
However, you do need to schedule a demo to get a quote and request pricing for your business.
17. Albert.AI
Albert.AI is a marketing AI assistant that automatically plans, tests, optimizes and executes marketing campaigns for you 24/7.
How Albert Works
Instead of a human going through marketing data to figure out what to do and say, Albert's artificial intelligence does it all for you!
There's only so much data a human can analyze. But because Albert is a machine, it can look at big data and make both small and big decisions on your behalf.
Unlike other AI Facebook ad tools that just make recommendations on your behalf, Albert AI can actually take action and execute these recommendations in your marketing campaigns.
What I like / dislike about Albert AI
Albert Pros
AI marketing assistant which can execute campaigns
Works on multiple channels including Google ads, Facebook ads and Instagram ads
Optimize campaigns on autopilot
Provides reports on campaign performance
Albert Cons
Works best for medium to large businesses with bigger advertising budgets
AI is still in its early stages
Albert final thoughts
Overall, Albert.AI is a very interesting AI marketing assistant which has a lot of potential. It's still in its early stages, but I can see how in the future, artificial intelligence marketing assistants like Albert will become more common as the technology progresses.
Conclusion
From the list above you can find a variety of AI powered lead generation sales software solutions for your business. The AI tools range from free to paid so there will be something for everyone.
To learn more about generating leads on autopilot, be sure to watch my FREE Masterclass training on 'How to get 10, 15, 30 or more high-quality appointments with your ideal clients each month'.
FAQs
Ashley Davis (or 'Ash' for short) is the CEO & Founder of Skyline Social. For over 15 years, he has been helping business owners with lead generation. Ash specializes in helping businesses get high-quality leads, appointments and clients each month in an automated, scalable and profitable way. You can watch his free Masterclass training to learn more.