For financial advisors, wealth managers and financial planners, lead generation is crucial to success.
To win clients, you need appointments.
And to get appointments, you need leads.
So, the BIG question is…
How can you get a steady flow of new financial advisor leads, high quality appointments and clients each month in your firm?
After helping hundreds of financial advisors successfully generate leads, appointments and clients 100% online, I've ranked and reviewed the top lead generation strategies for financial advisors!
Lead Generation for Financial Advisors (Summary)
If you're short on time, here are the top 5 lead generation strategies for financial advisors:
Google SEO (Best for free quality leads)
YouTube SEO (second best channel for free leads)
TikTok Ads (best for buying exclusive leads)
Facebook Ads (second best channel for buying leads)
LinkedIn Outreach (easiest way to get leads)
If you'd like to learn how to use some of these strategies to get financial advisor leads & appointments with your ideal clients, watch this free training.
In the article, let's explore how these strategies work in more detail, the pros & cons of each marketing channel and which strategy will likely work best for you.
Need help with lead generation?
The new vs old way to get leads
Let's get started by exploring the new vs old way of getting financial advisor leads.
When it comes to generating leads, many financial advisors rely on old traditional lead generation strategies such as:
Networking events
Seminars
Cold calling
Referrals
Buying shared leads
Direct mail
Word of mouth
And so on
Even though some of these financial advisor lead generation strategies can work, they are very time-consuming, expensive and definitely not very predictable.
For example:
Seminar/networking events: you have to constantly trade your time to win new clients (it's not automated). Plus, organizing & promoting seminars can be very expensive.
Referrals: are great, but not predictable. You don't know how many referrals you'll get each month.
Buying leads: When you buy leads it often results in low-quality leads who are not a good fit for your firm. Especially if they are shared leads or leads lists.
Cold calling: may have worked well in the past for financial advisors, but the reality is, the results are getting worse each year.
So, is there anything better you can do?
Yes!
The NEW way to get financial advisor leads involves setting up an automated and evergreen system to get exclusive leads for you.
This video explains more about how it all works.
Note: These strategies apply to financial advisors, financial planners, wealth managers and even for insurance agents looking for annuity leads or IUL leads.
How to get exclusive financial advisor leads (5 top strategies)
Now let's review some of these financial advisor lead generation strategies to help you decide which one will work best for your firm.
Here they are:
1. Google SEO
Best FREE way to get leads
SEO lead generation for financial advisors is one of the best ways to get high-quality financial advisor leads for free every month in your firm.
What is Google SEO?
SEO for financial advisors is when you rank first on Google for keywords related to the services your firm provides.
Why is SEO lead generation important for advisors?
Every day thousands of people are searching Google for answers to questions related to your services.
The question you need to ask yourself is…
… Are your potential clients finding YOU or one of your competitors?
If they're finding you, you'll be able to get a steady supply of high-intent leads that are actively looking for a solution to a retirement-related problem they have.
If they're NOT finding you, then you're missing out on new clients every single month.
How can financial advisors use SEO for lead generation?
All you need to do is write articles on your website that answer questions your potential clients are searching for on Google.
However, not all questions are equal.
For best results, you need to answer questions that:
Have a balance of low competition and high search volume
Are likely to be searched for by your IDEAL clients
Convert visitors into leads & clients (not just provide information)
How can you do this?
I explain how financial advisors can use SEO to get exclusive leads and sales appointments (without wasting time creating lots of content for nothing) in 'Step 4' of my free training here.
If you're wondering…
Does this strategy really work?
Well, chances are you probably found this article through a Google search. This article alone gets hundreds of financial advisors visiting it each month.
This in itself is proof that this strategy really does work when you do it properly.
Again, this free training explains how to do it with more real-life examples.
Summary
Google SEO lead generation is the best digital marketing strategy for financial advisors that are willing to put in the work. Advisors that use this marketing channel will reap the rewards of their hard work for years into the future.
To learn more about how advisors can start generating leads using Google SEO, watch 'Step 4' of my Free Masterclass training.
2. YouTube SEO
Fastest way to build trust with prospects
The YouTube SEO lead generation channel for financial advisors works similarly to the Google SEO lead generation strategy. The main difference is that with SEO, you create articles and with YouTube, you create videos.
Why is YouTube SEO important for financial advisors?
Before someone chooses to work with a financial advisor, the financial advisor must establish a lot of trust.
Think about it.
Someone is going to be trusting you with their money, retirement and financial future.
That's not a decision to be taken lightly!
One way you can build trust with prospects is by being on video.
If you go on video, your prospective clients will be more likely to feel like they know, like and trust you.
How can financial advisors use YouTube SEO for lead generation?
Similar to Google SEO, you need to create content that answers questions your prospects are searching for online.
YouTube is the world's second-largest search engine and YouTube videos also have the potential to rank in both YouTube search and Google search.
Tip: The written content you create for your website can be repurposed into a video. This means you can create an article for Google SEO and a video for YouTube SEO using one piece of content. #ProductivityHack
Summary
YouTube SEO is an excellent lead generation channel for financial advisors that are up for the challenge. Competition for financial advisors is relatively low on YouTube, so there's a lot of potential right now if you start early.
For inspiration, check out "Money Evolution" on YouTube.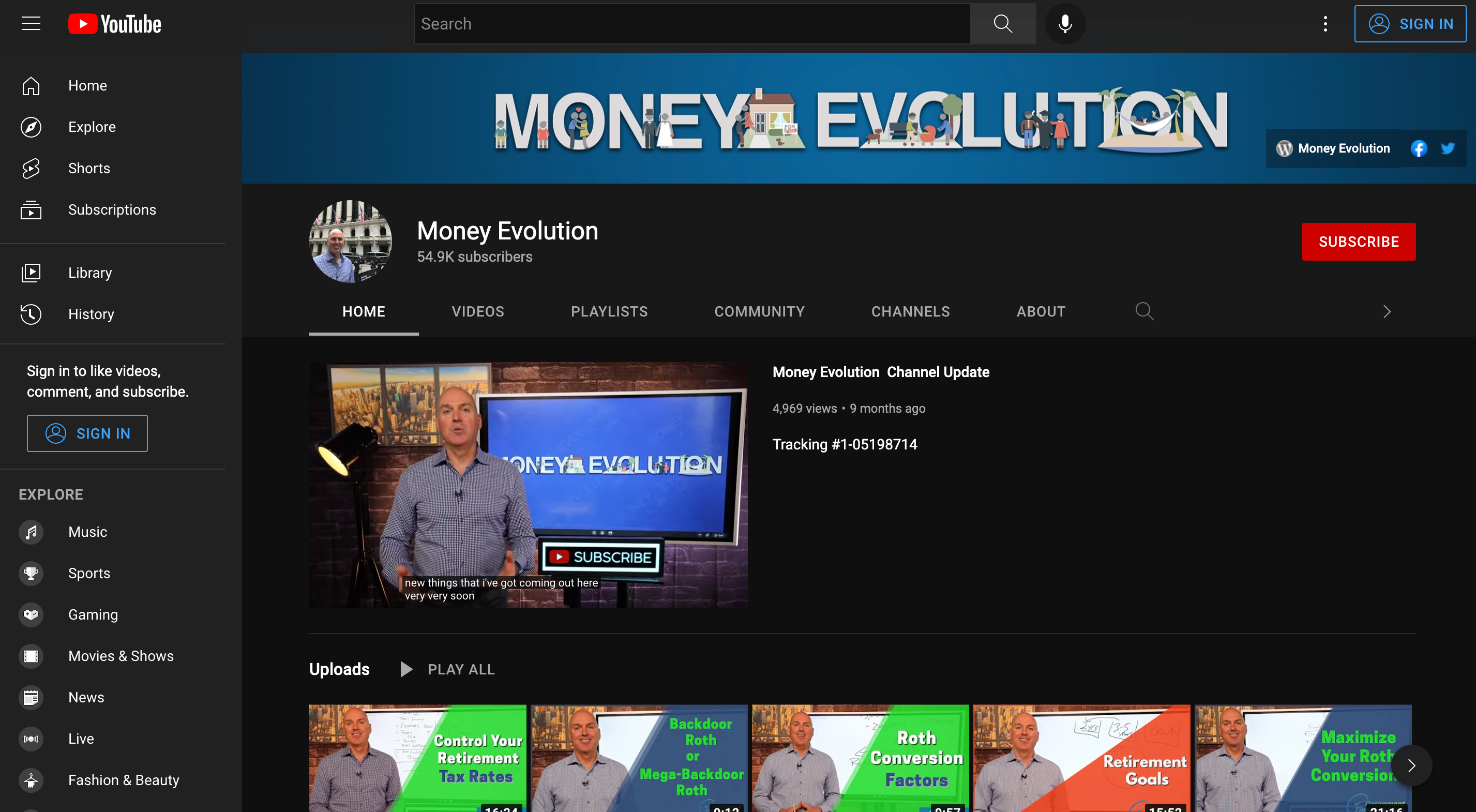 They have over 54,000 subscribers and some of their videos have millions of views!
To learn more about using YouTube to generate leads, check out 'Step 4' of my Free Masterclass Training. In the free training, I explain the number one mistake many business owners make when recording YouTube videos and why they don't generate any leads from their videos (and how to fix it).
Tip: You don't need a lot of views or subscribers on YouTube to get clients. I have financial advisor clients using YouTube with less than 1,000 subscribers who get clients each month from YouTube alone! The key is to create very specific videos which get high quality views that convert into qualified leads.
3. TikTok Ads
Best paid advertising channel for financial advisors
Stop! I know what you're thinking. "TikTok Ads!? Really? Isn't that just for young people…" And I get it! I used to think exactly the same.
But I'm a strong believer that in marketing you always need to be testing.
So, we run tests with financial advisors to see what happens.
What were the results?
TikTok ads performed 2x to 5x better than Facebook ads in terms of cost per lead, cost per appointment and cost per client acquisition.
Just think about that for a second…
With TikTok ads you can get 2 to 5 times MORE leads and clients for the same price as Facebook ads.
TikTok ads has over 5 million users over the age of 55 and it's growing every day.
So yes, TikTok ads can work well for financial advisors if you have the right strategy.
If you're looking to use TikTok ads in your financial firm, I'm sure you'll be pleasantly surprised with the results.
Most of our clients are now moving from Facebook Ads to TikTok ads because of how much better it's working.
The hardest part about running TikTok ads is knowing what to say to get results. You often have to go through months of testing before you find something that works.
Fortunately, for our clients, we already know what works. And we can give you a proven system to start getting results straight away.
Watch this video if you're interested in getting us to help you with TikTok ads.
Summary
TikTok ads is currently the best way to pay for your own exclusive financial advisor leads & appointments.
One reason TikTok ads are so cheap right now is because most advertisers are still using Facebook ads. However, once more advertisers move to TikTok ads the costs will likely go up in the future too.
So I recommend you make the most of these very low-cost leads from TikTok ads while they last! It won't be like this forever.
4. Facebook & Instagram ads
Facebook & Instagram Ads are one of the fastest ways to get financial advisor leads, appointments and clients each month in your business.
Although TikTok ads in our tests work better than Facebook ads for financial advisors, some advisors because of compliance reasons can't use TikTok. If that's the case with you, then Facebook is still a good alternative paid advertising channel.
With Facebook ads, you pay Facebook to get your ad in front of your ideal clients.
After you've spent $1,000 to $3,000 on Facebook ads, Facebook will tell you your cost per lead and cost per appointment. Then you can decide how many leads & appointments you want each month.
See 'Step 4' of this video for more info on how to use Facebook ads to generate leads.
Note: For simplicity, I'll be referring to Facebook & Instagram ads as "Facebook ads" only. Whenever I say "Facebook ads", please keep in mind this includes Instagram and any other assets owned by Meta.
How much do financial advisor Facebook ad leads cost?
Here are some Facebook ad stats & KPIs from our financial advisor clients that can give you a rough idea of what to expect when running paid advertising:
The Facebook ads cost per lead for financial advisors can vary from $5 to $50. The average is about $10-$20.
The Facebook ads cost per appointment for financial advisors can vary from $50 to $500. The average is about $200-$300.
The cost for financial advisors to acquire a new client on Facebook ads can vary from $500 to $5,000 (average is about $2,000 to $3,000).
The most important metric is the cost of acquiring a new client.
If, for example, the cost to acquire a new financial advisor client on Facebook ads is $3,000 and a new client earns $5K a year (assuming your fee is 1% of $500,000 of AUM) then you should be profitable!
Of course, every financial advisor works differently, so you'll need to do the math for you to see what's the maximum you can pay (or would like to pay) to acquire a new client.
After spending $1K to $3K on Facebook ads, Facebook will tell you what YOUR average costs are going to be.
We've found that the price of Facebook ads can vary for most financial advisors depending on:
Your target audience demographics. If you target high-net-worth individuals or families, it will cost more.
Your target location. The bigger the location you target, the less your cost per lead typically is (because Facebook is more likely to find people who convert).
The minimum amount of assets under management (AUM) you require. The higher your minimum AUM, the more expensive the leads will be.
Your messaging. The better your message resonates with your audience, the lower your cost per lead will be.
The hardest part of running Facebook ads is knowing what to say in the ads, funnel and follow-up emails to get the most conversions.
Fortunately, because we've run ads for financial advisors so many times, we already know what works and what doesn't.
Today, each time we launch a new done-for-you marketing campaign for financial advisors, 90% of the time we get it converting the FIRST time without needing to do additional split testing (saving our clients thousands of dollars and several months of split testing on their own).
Summary
Facebook ads are a great way to get financial advisor leads & appointments right NOW, but I don't recommend using Facebook ads as a lead generation strategy on their own.
For best results (maximum profit), I recommend using Facebook ads for short-term results and at the same time working on marketing channels that get more profitable long-term results (such as Google SEO, YouTube SEO or both).
Remember: With organic Google & YouTube lead generation, your cost to acquire a new client is practically $0 because you get leads and clients each month for FREE! As great as Facebook ads are, you can't beat the profit margins from SEO!
By the way, if you're looking for the best way to set up your financial advisor Facebook ads then be sure to check out 'Step 4' of my free training here.
5. LinkedIn Outreach
LinkedIn lead generation for financial advisors is a great alternative to financial advisor cold calling, cold emailing or other manual outreach tactics.
LinkedIn outreach allows you to get leads automatically each month with qualified prospects.
Watch this video below to see how our LinkedIn lead generation strategy works in more detail:
Tip: Learn how to get a LinkedIn premium discount for up to 95% off!
Summary
LinkedIn allows you to reach out to prospective clients in a way that is automated, profitable and scalable. However, just keep in mind it works best when you have a long automated email follow-up process because leads can take a while to convert.
I recommend leaving your LinkedIn lead generation campaign in the background (since it works mainly on autopilot) while you focus on other activities (such as Google or YouTube SEO).
6. Buy leads from lead generation companies
Another popular strategy is to buy financial advisor leads from some of the major lead generation companies.
However, when you buy leads it can have very mixed results.
Summary
Buying leads can work IF they're exclusive high-quality leads (which are rare to find). But in most cases, it's better to get your own exclusive leads to be in complete control of your digital marketing.
The bottom line
After helping hundreds of financial professionals launch successful lead generation sales funnels, here's what I'd recommend:
RECOMMENDATION
Sales Accelerator
Instead of spending thousands of dollars testing everything from scratch and wasting months or even years trying to figure it all out yourself… You could just learn from someone who has already done it and start seeing results straight away.
Pros:
Cons:
If you want to learn more about working with us and see how we could potentially help you, check out 'Step 5' of my Free Masterclass training.
At the end of the training, if you like what you hear, you'll then have the option to schedule a call if you need help with implementing the strategy.
Ashley Davis (or 'Ash' for short) is the CEO & Founder of Skyline Social. For over 15 years, he has been helping business owners with lead generation. Ash specializes in helping businesses get high-quality leads, appointments and clients each month in an automated, scalable and profitable way. You can watch his free Masterclass training to learn more.