Every day thousands of people are searching Google for questions related to retirement, financial planning, taxes, investments and so on.
The question you need to ask yourself is…
Are they finding YOU or one of your competitors?
Many financial advisors spend thousands of dollars on leads, online advertising, paid search, hosting dinner seminars, running direct mail and many other types of marketing campaigns…
… But nothing comes close to being able to get warm qualified leads, appointments and clients each month for FREE with financial advisor SEO.
Financial Advisor SEO key points
If you're short on time, here are the key points to successfully implementing a financial advisor SEO (search engine optimization) strategy:
Optimize your website for SEO
Write content potential clients search for on Google
Link to your sales funnel from your website articles
Create lots of content to achieve topical authority
Build backlinks organically
Track results and improve over time
If you want a step-by-step process on how to do this in detail, I recommend watching my free training here.
A step by step guide to financial advisor SEO
Doing SEO for financial advisors requires the following main steps:
Step 1. Optimize your website for search engines
The first step to search engine optimization is making sure Google can FIND your website in the first place.
To do this, it's important your website has:
A good structure
No broken links
Descriptive and unique meta tags on each page
Internal links
And other on-page SEO factors
You also want to avoid outdated SEO strategies such as keyword stuffing.
A good website structure
Having a good website structure means making it easy for Google to find the different pages on your site by organizing the information efficiently.
For example, you can do this by having a list of services you provide and specific pages for each of those services.
Avoid broken links
Google hates to see broken links on your website because it provides a bad experience to users who visit your website. So make sure you fix any broken links on your website.
Optimize title and meta descriptions on each page
It's important to have unique meta title and meta descriptions on each page of your website. Your web page title and meta description tells Google what your web page is about.
The title and meta descriptions also appear in search results.
So if you want your website to stand out in the search results, it's important to have well-written SEO titles and descriptions.
Internal links
Internal links are links embedded in your website content that go to other pages. These links tell Google what pages are important in your website.
The more links you have going to a certain page, the more important the page is in Google's eyes.
What you say on the link is also important (also known as your "anchor text").
It's better to have a descriptive link. For example, I have links on my website going to a page that talks about exclusive financial advisor leads. Notice how I link to this page using the keywords "financial advisor leads" and not "click here". This tells Google that the page is about lead generation for financial advisors.
This is so that Google knows the page is about "exclusive financial advisor leads".
Does this work?
Yep.
If you go to Google and type in "exclusive financial advisor leads" you'll see we are currently ranked number one.

Of course, internal links on their own aren't the ONLY thing helping us rank first on Google.
It's a combination of everything you see in this article.
And if you'd like to learn how we can do this for you, check out our done-for-you lead generation services.
How can you check your on-page SEO?
The easiest way is to install Google Search Console.
Google Search Console is Google's official (and free) SEO tool. It will tell you if there are any problems with your website that need to be fixed in order for Google to crawl and rank it higher.
Other on-page SEO factors
There are a few other on-page SEO factors to consider (such as SSL certificates, a fast-loading website, mobile-friendly web pages, etc).
If you'd like to learn more about what you need to do to generate leads from your financial advisor's website, check out our free training video here.
Even though the strategy we use to generate warm leads can work for ANY business that needs to get high-quality appointments each month, we've got a lot of experience doing this specifically for financial advisors with excellent results.
Step 2. Answer questions your potential clients are searching for
Once you have a search engine friendly, you can rank your financial advisor website higher on Google by answering questions your potential clients are searching for.
Some financial advisors make the BIG mistake of trying to rank for very competitive financial advisor keywords such as:
Financial Advisor
Independent financial advisor
Wealth management
Investment management
Certified Financial Planner
Financial Planner
Best Financial advisors
Best financial planners
The problem with targeting high competitive keywords for financial advisors is that it will be difficult to rank first on Google.
Instead, it will be much easier (and more effective) to target what SEO experts call the "long tail keywords".
Long tail keywords are longer keyword phrases.
Long tail keyword have:
Low competition (easier to rank for)
High search intent (searches are more likely to be prospective clients)
Lower search volume (not as many monthly searches as competitive terms)
Even though long tail keywords have less search volume, they are much easier to rank for.
So if you rank for lots of long tail keywords, you can build up a high amount of monthly search volume for your financial advisor website.
According to research conducted by Moz, even though individual long tail keywords don't get a lot of search volume, 70% of searches are long tail keywords. This means you can actually get more search volume by targeting hundreds or thousands of long tail keywords (rather than go after the super competitive search terms)
What kind of financial questions can you answer?
The best type of questions financial advisors can answer to rank higher on Google include:
Questions potential clients ask on sales calls
Questions clients ask at meetings
If you're still not sure, there are other ways you can find out what questions people are searching for.
One of my favorite ways is by using Google predictive search.
Google Predictive Search Keyword Research
If you go to Google and type in a question such as "Are annuities…"
You'll get a list of predictive search results.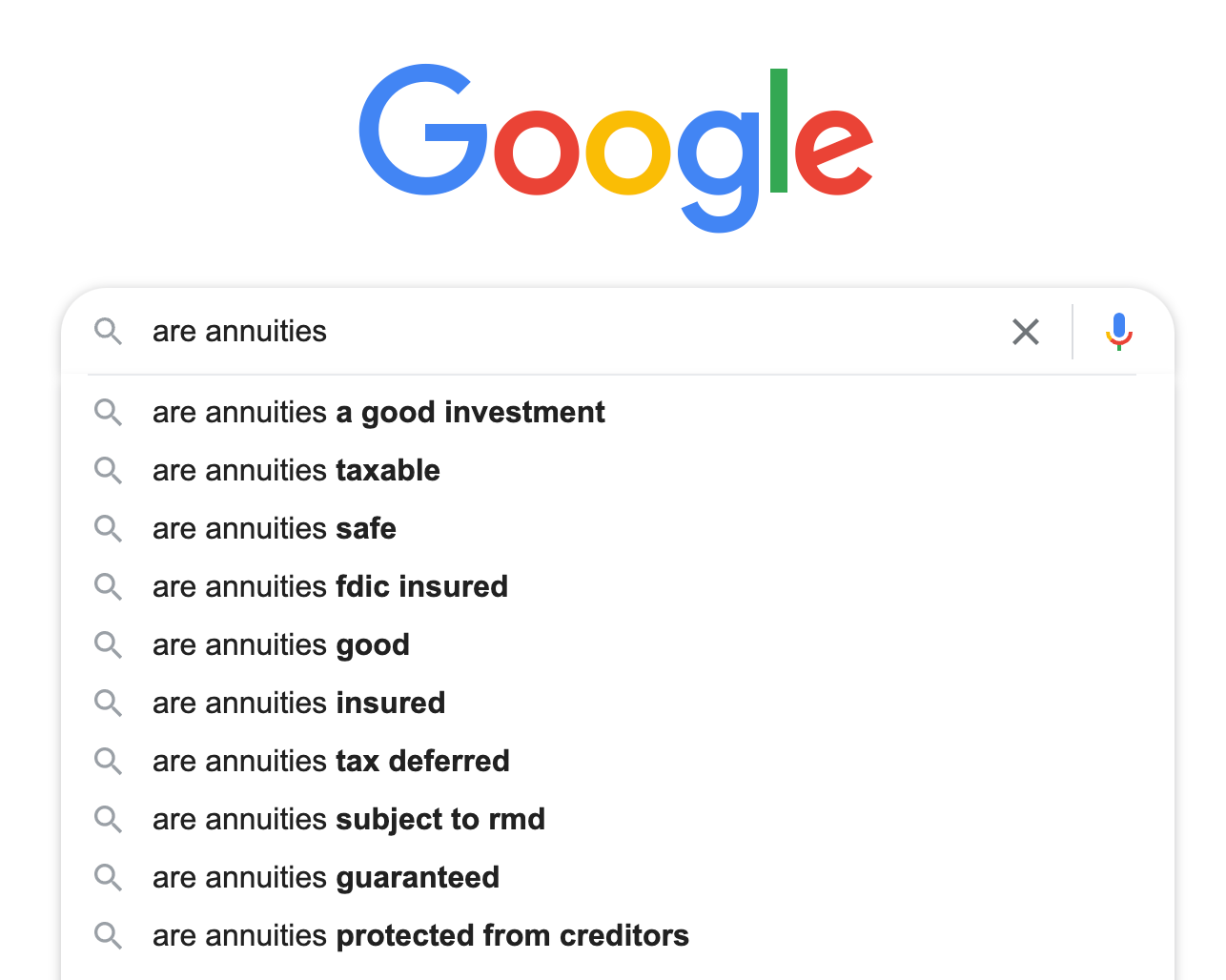 These are the most common searches related to your keyword phrase, directly from Google.
So, if you're a financial planner, you can start answering all these questions one by one.
We've done the same thing by answering questions such as:
And so on!
Try it out for yourself!
Enter any keyword phrase into the Google search bar and see what comes up.
Using this method you can very quickly find dozens of keyword ideas for questions to answer in the financial services industry.
Step 3. Link to your marketing and sales funnel
The biggest mistake financial advisors make when it comes to doing SEO is NOT optimizing their content to generate leads.
Seriously – I see this all the time!
A financial planner will spend a lot of time creating all this amazing content on their website or blog… But none of that content actually converts visitors into leads, appointments, and clients.
How do you fix this?
In your content, you need to send people to an automated appointment funnel.
This is a funnel that is specifically designed to get website visitors to convert into appointments and clients by providing them with a helpful educational video.
So in other words, throughout your content, you need to have links sending people to your funnel.
How do you create an automated appointment funnel?
Check out 'Step 2' in my free training by clicking here.
In this training, I go through how to create an automated appointment funnel (with a real-life example) and then show you how to get people into the funnel using Google, YouTube, LinkedIn and/or Facebook.
Once again, click here to watch the free training that explains how it all works in more detail.
Step 4. Blog regularly
Google uses something called "Topical authority" to rank websites higher on Google.
This means you need to create multiple articles (at least 50+) on the same topic before Google considers you an authority on a certain subject.
Google will only rank you higher on Google IF they view you as a topical authority.
That's why it's important to answer lots of questions on your website.
Answering one question on its own isn't enough to rank higher on Google!
It's very common to see very slow results with Google until you've created enough articles and then suddenly Google starts ranking you higher for very various search terms (almost overnight!).
Step 5. Get SEO help!
How do you know the best keywords to target for financial advisors?
How can you be sure the content you create is optimized well?
How do you know if you're doing everything properly or if you're making mistakes (without realizing it) along the way?
You could try and figure everything out on your own (through trial and error), but it will be much quicker and easier to learn from someone who has done it.
So hiring an SEO expert with experience working with financial advisor websites can be a great way to get faster results (vs doing everything on your own).
And that's exactly why I can help you with.
To learn more about working with me and to see how I can help you, watch my free Masterclass training here.
The Masterclass training will explain how my unique lead gen strategy works in more detail.
And at the end of the video I go through how you can work with me if you want me to help you do everything.
Step 6. Build backlinks organically
Each link you have going to your website counts as a "vote" in Google's eyes. However, not all votes (or links) are the same!
Links from really good quality websites related to financial planning, retirement, insurance, etc will be worth a lot of "votes".
But links from spammy low quality websites would be worth very little votes, or in some cases could actually harm your website.
This is why you need to be very careful with the link building part of your SEO strategy if you want to rank higher on search engines such as Google.
To be extra safe, it would be best not to buy any links (because if Google find out they could penalize your website due to trying to manipulate the search results).
So how do you get links going to your website without buying links?
In Google's ideal world, they say you should get links naturally going to your website IF you have good content.
And to some extent this is true.
For example, I've never paid for any links on my website, but I've noticed other websites have linked to my content because it's helpful for them.
This is the BEST way to get links.
Other ways to get links organically
Another way you can get links relatively safely is by occasionally guest blogging on other people's websites related to financial topics.
However, it's best to only guest blog on good quality websites. If a website openly lets anyone write a guest blog post, chances are it's going to be a low-quality website.
But if they don't typically let people write guest posts or they are very strict with who they let write an article for the website, then chances it will be a good quality site.
Should financial advisors invest in SEO?
Yes, there are lots of benefits for financial advisors to invest in SEO.
Ranking at the top of Google allows a financial advisor to get:
Free leads from Google
Leads that are likely to convert quicker
Leads that are actively searching for a solution
Predictable results each month
SEO is essential to every financial advisor business that wants to grow their business over the long term with good quality leads and clients every month.
FAQs
Ashley Davis (or 'Ash' for short) is the CEO & Founder of Skyline Social. For over 15 years, he has been helping business owners with lead generation. Ash specializes in helping businesses get high-quality leads, appointments and clients each month in an automated, scalable and profitable way. You can watch his free Masterclass training to learn more.