WHAT IS THE DONE-FOR-YOU MARKETING PROGRAM?
Instead of going through our Sales Accelerator training program and setting everything up yourself, we do it all for you!
After everything is set up, we don't just leave you to figure it out on your own.
We also continue to support you each month and help you get better results through on-going split testing and optimization.
WHO IS THE DONE-FOR-YOU PROGRAM FOR?
If you think you'll be too busy to set up your lead generation campaign yourself, the done-for-you program is a great way to get started without it taking up too much of your time.
Here's what you can expect on the done-for-you marketing program
STEP ONE: FILL OUT OUR QUESTIONNAIRE
We'll send you over our lead generation questionnaire for you to fill out. This is so we can have a better understanding of your business, target audience and the big problem you solve for your clients.
Based on the answers to this questionnaire, we'll be able to set everything else up for you.
STEP TWO: CREATE THE VIDEO SALES LETTER SCRIPT
Based on the information you send over, we'll use it to create your Video Sales Letter script. The video sales letter is designed to communicate HOW you help your clients and what makes you better vs other alternative solutions.
We'll send you the first draft via Google Docs. All you need to do is check it and let us know if you want any changes.
STEP THREE: CREATE THE VIDEO SALES LETTER RECORDING
Once the Video Sales Letter (VSL) script is done, we'll start work on creating the VSL presentation & voiceover.
For the voiceover, we can either do it for you or you can do it yourself.
After the VSL presentation & recording is done, we'll polish everything, add b-roll content to improve engagement and send you the video file for approval. 
STEP FOUR: CREATE MARKETING & SALES FUNNEL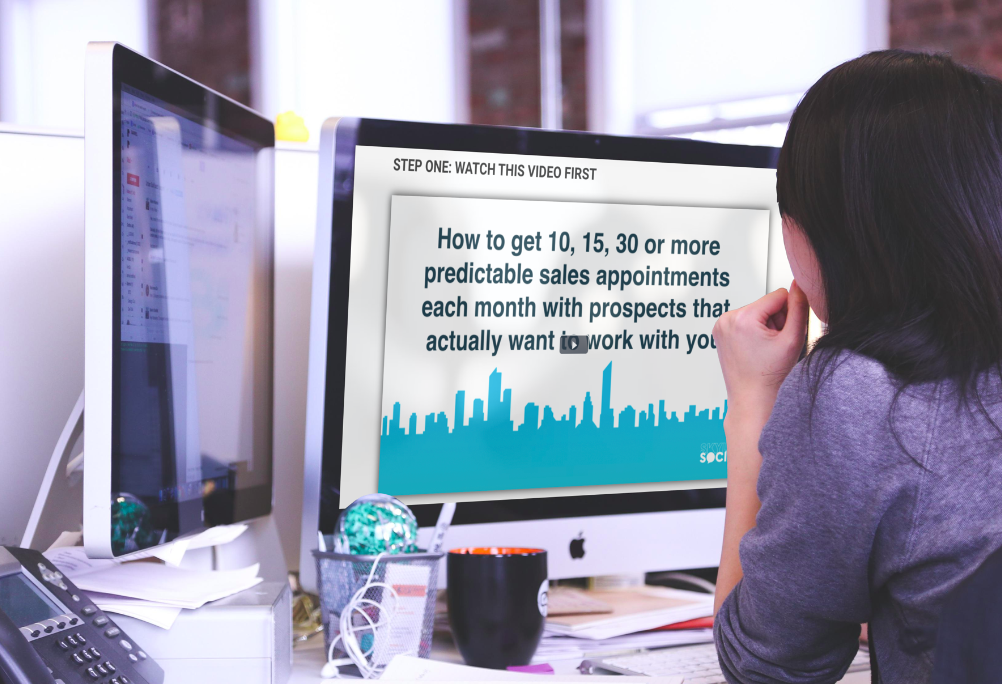 Next we'll create your marketing & sales funnel landing pages and customize them to match your branding.
The sales funnel includes:
– Opt-in page
– Video page
– Application page
– Schedule page
– Call confirmation page
And various automations behind the scenes to ensure everything works smoothly and seamlessly.
STEP FIVE: CREATE FOLLOW UP EMAILS
We'll create up to 3 months worth of weekly automated follow up emails based on content from your VSL, website and other resources that you may have (blogs, pdf guides, case studies, videos, etc). 
Essentially we will repurpose your content into follow up emails to nurture and convert more leads into appointments and clients.
STEP SIX: SET UP LEAD GEN CHANNELS
Next we'll set up your various marketing channels to start generating leads & appointments. Here's what we do:
Organic / Low-Cost Channels:
LinkedIn Outreach: Create the messages, help you set up the automation software, and integrate it with your funnel.
Google & YouTube Search (SEO): Research one year's worth of content (52 topics) that answers questions your potential clients are searching for.
Paid Channels:
Facebook Ads: We'll create your Facebook ads and provide you with ongoing support.
TikTok Ads: We'll create your TikTok ads and provide you with ongoing support.
Adroll: We'll set up your ads to retarget people on thousands of different non-social media websites (such as Yahoo, MSN, Forbes, etc!).
Which marketing channels work best?
All the channels above can work well. Some clients do all of them at the same time. Others prefer to start with one or two and add more later on. Ultimately, it's up to you. We can help you decide which channels will be best for your business if needed.
STEP SEVEN: ON-GOING MANAGEMENT
After everything is set up and working properly there is some ongoing marketing work to keep the momentum going. 
What do you need to do?
Once a week you need to answer a question your potential clients are asking. 
You can publish the answer on your website as an article, a YouTube video or (even better) both!
You can also publish the same content in your follow up emails to continue to help convert even more leads into appointments & clients over time.
And that's it!
You'll now have a new system in your business that generates leads, appointments and clients predictably and profitably each month!
Frequently Asked Questions
What is the best way of doing lead generation?
If you're looking to get warm high quality leads and convert these leads into clients, we recommend you watch our free Masterclass training first (if you haven't already). This free training will explain how the lead generation process works in more detail.
How much does lead generation cost?
The cost of lead generation depends on the type of lead generation strategy you're using. For example, if you're using organic lead generation strategies such as Google SEO, YouTube SEO and LinkedIn outreach, the costs will be less than $100/month.
If you're using paid advertising strategies, then you simply pay per lead to the marketing channel you're using (e.g. Facebook ads) and decide how many leads you want each month. The cost per lead typically ranges from $5 to $30.
What is unique about this done for you lead generation program?
No monthly retainer or long-term contracts. It's only a one-time investment to get everything up and running.
A focus on getting qualified leads & appointments, rather than a high volume of low quality leads
Includes everything you need to get results (a sales funnel, video sales letter, follow up emails, set up of multiple marketing channels, on-going support etc)
How much support do you get?
As a client, you get lifetime ongoing support for everything related to your done for you lead generation campaign. There are no extra fees or hidden costs.
How long does it take to get results?
It typically takes 30 days to set everything up and then you can start generating leads as soon as month two! However, it can take longer for leads to convert into clients. How long it takes for leads to convert into clients largely depends on the length of your typical sales cycle.
For some clients, it can take a few days to a few weeks. For others it can take a few months or longer. For most of our clients, they see conversions (leads converting into clients) within the first 3 months of launching a campaign.
What happens if it doesn't work?
If for any reason the funnel does not convert as expected, it's very easy to diagnose the problem and fix it. All we need to do is look at your funnel and see where the "weakest link" is.
For example, are you getting a lot of traffic and very few leads? This likely mean the messaging for your audience is not a good fit and needs to be tweaked.
Or, are you getting a lot of leads and only a few appointments? This likely means the content in your video and/or email marketing campaigns needs to be improved.
Or, are you getting a lot of appointments and no clients? This likely means your value proposition and sales process needs to be improved.
At each step in the lead generation process we can see where it's working best and where it needs to be improved.
A big part of digital marketing is split testing and making improvements over time to get better results. As one of our clients, we will be help you with this whole process from start to finish.
Will this generate warm leads?
Yes, by default, this done for you lead generation campaign is designed to get warm or hot leads, rather than cold leads.
Most other lead generation campaigns get a lead to fill in a form online. But this isn't an effective way of making sure the leads you get are your ideal clients and that they definitely want to work with you.
Instead, we use a video sales letter. A video sales letter is like having a sales person working for you 24/7. The video sales letter will help you attract your ideal prospects and filter out the wrong kind of prospects. Only prospects that like what they hear on the video and definitely want to work with you are the ones that will schedule a call to learn more about working with you.
You no longer have to waste time constantly speaking to the wrong kind of people. Instead, you can get leads with the ideal prospects in your target market.
Do you sell leads?
No, we don't sell leads to clients. We help you generate your own leads either for free or by using paid advertising. You will own and be in full control of your marketing campaign.
Do I still get access to the training program?