Did you know you can very easily find people who have just changed jobs and are possibly looking to rollover their 401K?
Yep!
This is called "Money in motion" retirement leads and it's some of the best types of clients you can get.
And if you do it the right way, you don't even need to spend a penny on paid advertising or pay another company for leads to find these people.
Summary
Short on time? Here are the best ways financial advisors can get retirement 401K rollover leads:
Using free organic strategies such as LinkedIn, Google SEO and/or YouTube SEO
Get your own exclusive 401K rollover leads by paying for ads
Buy 401K rollover leads from another lead generation company
In this article, you'll learn the pros and cons of each option so you can decide which strategy will be best for you and your firm.
Note: If you want to generate your own exclusive retirement leads without paying a lead generation company for low quality or shared leads, watch my Free training that shows you how to do this.
The Best Way To Get Money in Motion Leads
Before you reach out to people who are looking for a 401K rollover you need the right STRATEGY.
And by 'strategy' I'm talking about a way where you can:
Get your OWN exclusive leads without paying a marketing / lead gen company
Get leads chasing to work with you (rather than you chasing them)
Get high quality leads with ANY marketing budget (big or small)
Get predictable high quality appointments with your ideal clients each month
And… Get MORE than just 401K rollover leads (find people looking for retirement planning, wealth management, annuities + more!)
All of this and more can only be done IF you have the right strategy.
What is the right strategy?
Before you start ANY lead generation or digital marketing campaign, you need the right strategy.
CLICK HERE to watch a video I've recorded that walks you through the BEST strategy to get high quality leads & appointments each month on autopilot by using LinkedIn, Google and/or Facebook.
It works especially well for financial advisors, wealth managers and financial planners as you can see from these case studies.
So, have you finished watching this video that goes through how the strategy works?
If so, GREAT!
Keep reading to see the best ways to FIND 401K rollover leads.
How to get 401K Rollover Leads
Once you have the right strategy, you can start generating retirement 401k rollover leads using both free and paid strategies.
Free 401K rollover lead generation marketing channels:
LinkedIn outreach
YouTube Search
Google Search
Paid 401K rollover strategies
In this article, we'll explore these free and paid ways to generate 401K rollover leads in more detail.
If you're struggling with coming up with new 401K marketing ideas or ways to generate retirement planning leads, this list of strategies will help you!
See also: The ultimate guide to digital marketing for financial advisors
1. Get Free 401K rollover leads on LinkedIn
Did you know that you can search for people who have recently changed jobs on LinkedIn?
Yep, and it's actually easier than you think!
Here's a step-by-step guide on how to do this:
Or keep reading if you want to see a details breakdown of each step:
Step 1. Start with LinkedIn Sales Navigator Advance Search
The first thing you need to do is go to LinkedIn Sales Navigator and click on Advanced Search.
Tip: You'll need a LinkedIn Premium account to use Sales Navigator. Here's how you can up to a 95% LinkedIn premium discount. This discount allows you to get a Premium LinkedIn account for $5 to $50/month instead of $99/month!
Step 2. Select the right LinkedIn search filters
Once you're on the Sales Navigator search page, change the Relationship to 2nd.
You can also potentially do 3rd, but I prefer 2nd Degree Connections since it's people that you're not yet connected to but have connections in common with.
Then you need to go down to Years of Experience.
I always recommend setting this on the highest option, 'More Than 10 Years', which will usually get you an older demographic of people to come up in the search results.
You can see the search results update dynamically as we start changing some of the different filters.
You can set the geography to be all of the United States or any other location, state or city of your choice.
I'll use Rockford, Illinois as an example of generating leads in a local area.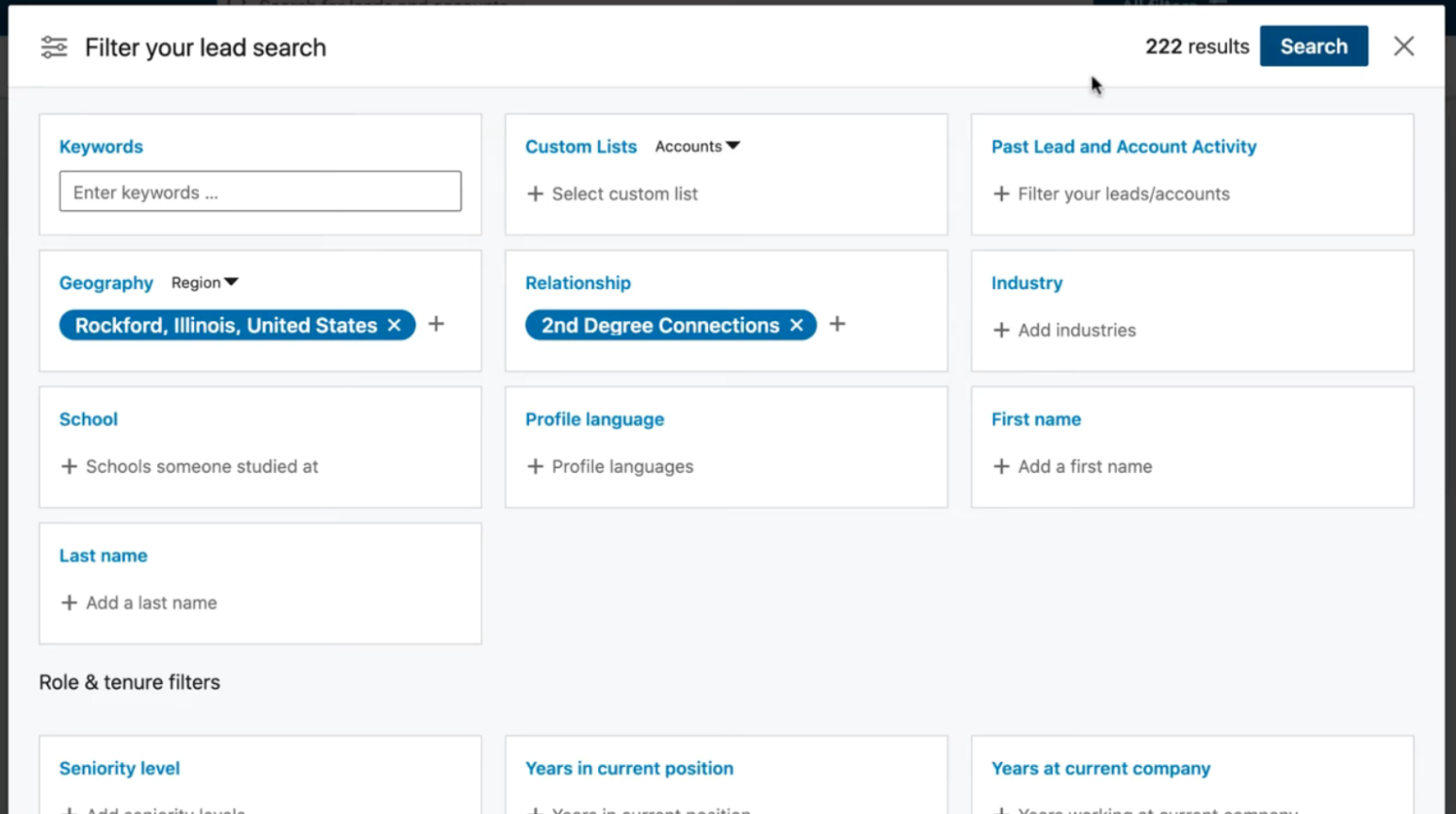 While my matches are at 222, your results will vary since this is not how many people are in Rockford, these are just how many people there are that I have a mutual LinkedIn connection.
If you're connected to more people in this area, chances are you will see more results than me.
Step 3. Select people who have recently changed jobs
The next step is to go to where it says 'Years In Current Position' and change this to 'Less Than 1 Year'.
This will give you the results of the people who are in your location, who have been in this job position for less than 1 year.
'Years At Current Company' could be good to adjust as well, because you may sometimes get someone who just changed position in the same company.
It works very similarly to "Years In Current Position".
Step 4. Use the "Changed jobs in the past 90 days" LinkedIn feature
The second thing that you can do to find people that have just changed jobs very recently is to type in any keywords using the LinkedIn search filters, and when you get to the results page, click on the tab that tells you how many people from your search have 'Changed Jobs in the Last 90 Days' as seen in the screenshot below:
These will be good people for you to then connect to and start to reach out to to see if you can help them.
If you ever need to save these searches and want to be notified if any new matching people have come up, you can just click on Save Search, then give it a name and alert frequency depending on how often you want to be notified.
Step 5. Reach out to these leads
Now that you've found a list of people who have recently changed jobs, you need to reach out to them to explain how you can help them.
Unfortunately, this is the part most people get wrong when it comes to using LinkedIn for lead generation.
Most financial advisors or financial planners will message and pitch their services.
But this produces very poor results. Often it just ends up annoying people.
So, what can you do instead?
Ask if they want to watch a short video that explains how you can help them. The video should be educational and not salesy.
If you'd like to learn the right way to create this video, then see step 2 of this free training.
Step 6. Automate your LinkedIn lead gen
I doubt you want to spend all day connecting and messaging people on LinkedIn. This is why I recommend you automate your LinkedIn lead generation using LinkedIn automation software.
In my training program, I explain how you can use Linkedin to generate leads and then automate the whole process using LinkedIn automation tools (such as Meet Alfred + Zapier).
2. Get free financial advisor 401K leads from Google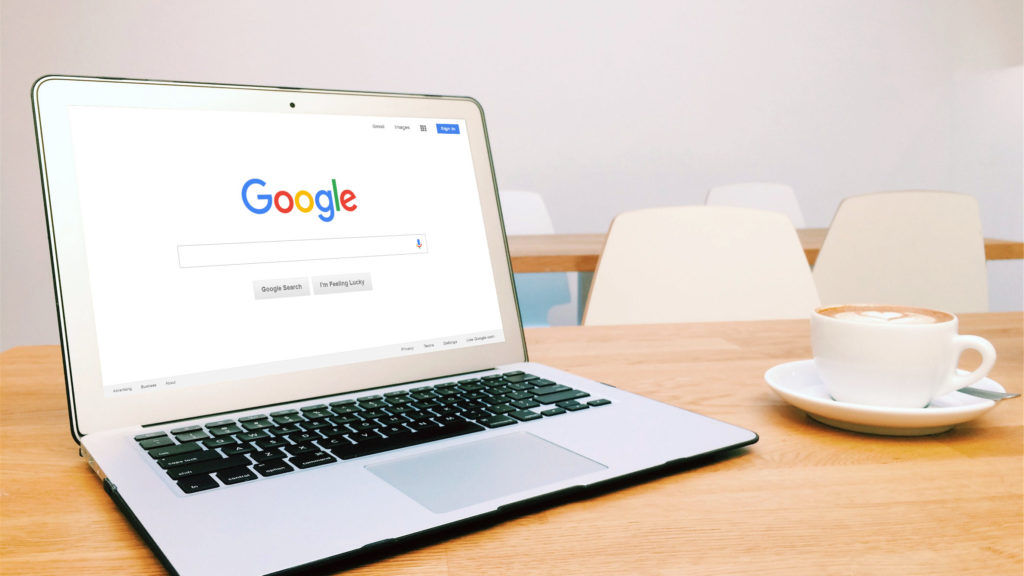 There is another way to get free financial advisor 401K rollover or money-in-motion leads by using Google.
How?
All you need to do is answer questions that your potential clients are searching for related to 401K rollovers. If you answer the question on your website (or on a YouTube video) you can rank higher on Google for that search term.
This is also known as financial advisor SEO.
Of all the different free marketing channels available to financial advisors, SEO (search engine optimization) is one of the best ones.
SEO allows you to get high-quality warm leads each month with people actively searching for your services.
3. Get free financial advisor 401K leads on YouTube
One of the most underused ways to get free 401K rollover leads is by using YouTube videos.
YouTube lead generation works similarly to Google SEO.
The main difference is: Instead of answering questions your potential clients are searching for in an article on your website, you answer these questions in a video for YouTube.
Then whenever someone types in a question on YouTube such as "How to rollover a 401K to an IRA" your video can appear at the top of the search results:
Curious about the best questions to answer in your YouTube videos or blog content to get 401K leads? Click here to watch Step 4 of this video.
4. 401K leads with Facebook ads
You can use paid advertising channels, such as Facebook Ads, Google ads and surprisingly even TikTok ads to get many types of financial advisor leads including 401K rollover leads.
To do this, you need to:
Create a marketing and sales funnel
Have a video sales letter
Create Facebook lead ads to send people to your sales funnel
Follow up with leads regularly with helpful educational follow up emails
I recommend you sign up for the free Masterclass I've recorded here which will go through how this all works in more detail.
In the free training, I show you exactly what you need to do.
I only charge if you want me to help you do it or do it all for you.
Enjoy!
5. Get exclusive retirement leads with TikTok ads
TikTok ads is a relatively new lead generation channel for financial advisors, but you may be surprised to hear that, in some cases, it can generate the best quality retirement leads.
In fact, in many of our tests, we've found for 80-90% of clients, TikTok ads is able to generate 2-5x better results compared to other paid advertising channels such as Facebook ads.
For example, pay attention to what one of our financial advisor clients says about generating exclusive retirement leads with TikTok ads.
If you don't have time to watch the whole video, he basically says he was "surprised by how many leads he got from high net worth individuals with TikTok ads."
Yep, that's right.
With TikTok Ads, you can target over 9 million people (many of which are high net worth individuals) who are over the age of 55+ and are looking for help with retirement.
If you'd like to learn more about how to generate retirement leads and 401K rollover leads using TikTok ads, watch 'Step 4' of my Free Masterclass training here.
6. Buy 401K leads
There are lead generation and marketing companies that will sell you 401K leads. So you might be wondering, wouldn't it be easier to simply buy 401K rollover leads?
There are pros and cons when you buy online leads.
Pros:
Takes less time: A lead generation / marketing company does all the work for you. You get leads delivered to your inbox quickly and only pay per lead.
Easy to start: Since you don't need to do any marketing yourself, it's easy for financial advisors to start generating 401K rollover leads quickly
Cons:
Leads are more expensive. A lead generation company sells gets leads themselves (e.g. via FB ads) and then re-sells you this lead with their markup on top.
Shared leads. Many lead gen services will sell you shared leads instead of exclusive 401k rollover leads. This makes it harder for you to convert leads into clients.
Low quality leads. Many financial advisors I've spoken to have said that when they bought leads in the past, they were very low quality or hard to get hold of.
No control. Even IF buying 401K financial advisor leads works well, they can always cancel or stop giving you leads if they no longer want to work with you or if something changes in the markets.
Leads don't know you. Leads have no idea who you are, so it takes more time for you to build trust and build up a relationship with these leads.
For these and more reasons, many financial advisors have decided to get their own exclusive lead generation system rather than rely on another company to provide them with leads.
We can help you set up your own lead generation system. Watch this video to see how it all works.
Conclusion
In conclusion, there are two ways to get 401K leads:
Option 1: Get free leads organically. This takes time, but it's the most profitable way in the long-term.
Option 2: Pay for ads. This requires money, but it's the fastest way to get leads.
Watch this video to learn how you can generate leads using both options.
Ashley Davis (or 'Ash' for short) is the CEO & Founder of Skyline Social. For over 15 years, he has been helping business owners with lead generation. Ash specializes in helping businesses get high-quality leads, appointments and clients each month in an automated, scalable and profitable way. You can watch his free Masterclass training to learn more.