What is lead generation automation?
Lead generation automation is the process of generating leads in your business automatically.
In other words, each month your business will get new leads, appointments and clients without having to spend a lot of time on your digital marketing.
In this article, you'll learn:
The best way to generate leads automatically
The best way to convert leads into appointments on autopilot
The best digital marketing automation tools
Want to see a real-life lead gen automation example? Sign up to my free Masterclass training. This will show you a real-life example of how to automate your lead generation campaign step-by-step.
What does lead generation automation replace?
Lead generation automation replaces traditional marketing strategies such as:
Word of mouth
Networking events
Seminars
Cold calling
Door knocking
Most other traditional marketing
Not only does lead generation automation saves you time, but it is also a lot more effective and profitable compared to other marketing strategies.
How does lead generation automation work?
To generate leads automatically, you need the following:
An automated appointment sales funnel
At least one predictable and profitable marketing strategy to generate leads automatically
A way to convert leads into sales appointments and clients automatically
If you don't yet have this in your business, that's good news!
Why?
Because it means there's a HUGE opportunity for growth in your business right NOW.
Follow these steps to get started:
1. Create an automated sales funnel
The first step to generating leads, appointments and clients on autopilot is to have an automated sales funnel that is specifically designed to convert strangers into leads and clients.
The problem is…
There are hundreds of different funnels to choose from!
But if your goal is to win clients through high-quality sales appointments, then you'll need what we call an 'Automated Appointment Funnel'.
This is the best type of funnel to get high-quality sales appointments.
Here's an overview of the pages in this funnel:
Here's what a successful automated appointment funnel looks like (if you want to see a real-life example).
Once your funnel is up and running, you now need to get leads into the funnel.
Note: There are different variations to the automated appointment funnel For example, some business owners (myself included) prefer to have an application page FIRST before someone schedules a call. So you can make tweaks to the automated appointment funnel if needed.
2. Have an automated lead generation strategy
The next step to creating an automated lead generation campaign is to research the best lead generation marketing channels that can be automated.
If this sounds like a lot of work, don't worry!
Fortunately, I've already spent thousands of dollars and countless hours testing different automated marketing channels to see what works best.
I've tried pretty much everything you can think of, including:
Webinars (live and automated)
Facebook posts / groups
Posting social media posts each day
Cold email
Masterminds
And more!
Although the above marketing strategies can work, they weren't the most effective strategies in my experience.
The BEST automated lead generation marketing strategies
The automated marketing channels that I've found work the best are:
LinkedIn outreach
Google SEO
YouTube SEO
Paid Advertising (Google, YouTube, Facebook and/or Instagram ads)
Note: All automated marketing channels require work, in the beginning, to set it all up, but once its up and running, it mostly works on autopilot each month (with minimal input on your end).
Now that you know the BEST marketing channels, the next logical question is…
How do you actually use them?
Each marketing channel works in a slightly different way.
Here is a quick overview of how each marketing automation channel works:
LinkedIn Outreach Automation
LinkedIn outreach is the process of generating leads on autopilot by using LinkedIn automation software to automate your LinkedIn prospecting.
However, the way WE generate leads on LinkedIn is completely different to what most other people are doing.
Most other people on LinkedIn are TRYING to generate leads by:
Posting each day
Commenting on other people's LinkedIn posts
Joining and networking inside of LinkedIn groups
Pitching your services through a direct message
Asking people to jump on a quick "15 minute phone call"
Messaging people with awkward questions to try and build rapport
If you've tried one or more of these strategies, you'll know it's not as effective as everyone claims.
And those strategies are also not very automated.
Here's a better way to generate leads on LinkedIn on autopilot:
The process is relatively simple:
You research potential clients using LinkedIn search
You connect to potential clients on LinkedIn
And here's the KEY difference:
You message LinkedIn prospects and ask them if they want to watch a short video that solves a big painful problem you have (this is your video sales letter in the automated appointment funnel)
Potential clients will be a lot more inclined to say "YES!" to watch a short video, then to jump on a sales call with you.
This means you'll get more leads and more sales appointments.
And the best part?
Most of this LinkedIn lead generation strategy can be automated using LinkedIn automation software.
To learn how the LinkedIn lead generation strategy works in more detail watch "Step 4" of this free training video here.
Google SEO Automation
What is Google SEO? It's the process of generating leads through search engine optimization (SEO).
The advantage of SEO lead generation is that you can get leads from people who are actively searching for a solution that you can help them with.
This means that leads are likely to convert quicker compared to other marketing channels (such as LinkedIn).
So, how does Google lead generation work?
Here's a quick overview:
Answer questions your potential clients are searching for in an article or blog post on your website
The more questions you answer, the more keywords you'll rank for
Do your best to answer the question better than anyone else
Throughout your article have links sending people to your marketing funnel so you can generate leads from your website visitors
Make sure to include unique images where possible and you can automate this step using an AI image generator tool.
This strategy requires work in the beginning (writing an article), but once you've written the article, it can rank for keywords on Google for years into the future.
This means one article can generate FREE leads and new clients for your business every single month on in a 100% automated way.
Does it work?
Absolutely!
In fact, chances are you're reading this article right now because of a Google search you made… Which is proof that it works!
YouTube SEO Automation
YouTube is another great marketing channel where you can generate leads each month automatically.
The YouTube lead generation process works almost the same way as Google lead generation.
The big difference?
Instead of creating a written article, you create a video for YouTube.
To save time, you could even turn your written article into a YouTube video.
Paid Advertising
Paid advertising allows you to generate leads with by showing potential clients an ad that sends them to your funnel.
Because you're paying for ads, you don't need to spend any time reaching out to prospects.
The more money you spend on ads, the more people you can reach and the more leads and clients you can win.
In the beginning, it may take some time to find high-converting ads. But once you do, it requires minimal work to maintain.
3. Automate your lead nurturing
Once you've set up the funnel and you're generating leads, you also want to have a way to automatically convert leads into clients.
You can do this by using:
Retargeting social media ads
Retargeting web display ads
Many business owners spend countless hours following up with leads, but the reality is, you can completely automate this step.
Why automated follow-up is so important
Most marketing funnels FAIL because after running a lead generation campaign, they do not follow up with these leads for longer than a month or two.
You need to follow up with leads for many months – sometimes even years.
Or, they don't follow up with leads with the right type of content marketing.
There are many ways to automate your lead nurturing.
Here are some of the best ways:
Automate your email marketing
Email marketing automation is still one of the most powerful and cost-effective ways to convert leads into sales.
However, to have a successful email marketing automation campaign you need to:
Follow up with leads regularly for many months (sometimes even years)
Automate your email follow up sequence
Send helpful educational content in your emails (also known as content marketing)
Automate social media retargeting ads
A great way to convert more leads into clients is to retarget website visitors on social media.
Retargeting social media ads are very cost effective and a lot cheaper than running ads to a cold audience.
Retargeting ads will help you with both your lead generation and your lead conversion.
Automated social media web display ads
If you really want be everywhere in the mind of your potential clients, it's a good idea to retarget website visitors outside of social media too.
You can do this by retargeting website visitors with web ads using Adroll.
Adroll allows your advertisement to appear on thousands of different websites, including:
And many more!
See this quick video for an example of how retargeting ads on Adroll work:
Sales appointment automation?
Can you automate sales appointments? Or, in other words, can you skip the sales appointment and go straight to the sale? It depends on what you're selling and how much it costs.
The more expensive the product or service you sell, the more likely the prospect will need to speak to a sales rep from your sales team before buying.
Usually, products or services that cost more than $3,000 will require a sales appointment.
If you're selling a product or service for less than $3,000, you might be able to sell it 100% online without needing a sales team. To know for sure, split-test it and see what happens!
Best lead generation automation tools
To automate lead generation, you need to use marketing automation tools.
What are marketing automation tools? Marketing automation tools replace marketing work that you would normally do manually with software that does the work for you.
The problem is, there are hundreds of marketing automation tools.
So, to make your life easier, I recommend choosing all-in-one marketing automation tools. This will often save you time, money and resources.
Here are a list of the best marketing automation tools to automate lead generation.
Best all-in-one marketing automation solutions
Here are the best all-in-one sales funnel tools:
Kartra
Hubspot
Zoho
GrooveFunnels
Winner: Kartra.
Many business owners find Kartra is the best all-in-one marketing automation tool small businesses. However, Kartra only offers email support. If you don't mind paying more money, then Hubspot and Zoho offer phone support for a higher price.
That being said, I've used all of the all-in-one tools on the list above and even though Kartra costs less and doesn't offer phone support, it's still my favorite and the all-in-one solution marketing solution I use for my own business and most clients.
See my full Kartra review here.
Best funnel building automation tools
Here are the top 3 funnel building tools:
Kartra
ClickFunnels
LeadPages
LeadPages is the cheapest option (just under $30/month), but it doesn't include a lot of other features you need to build landing pages.
ClickFunnels is probably the easiest funnel building tool to use, but you need to pay more if you want extra features to send automated emails. With follow up emails, ClickFunnels will cost $300/month. Without it, Clickfunnels will cost $99/month.
Kartra is more expensive than LeadPages, but it also has a lot more features for less money than it costs to use ClickFunnels.
In general, Kartra will cost only $99/month and it includes video hosting, email marketing automation, landing pages, forms and much more.
Best email marketing software
Here are the top 3 email marketing tools I recommend:
Kartra
ActiveCampaign
Mailchimp
Mailchimp is the most cost-effective option, and it's relatively easy to use.
ActiveCampaign has more automation features and is better if you want to create more advanced automation follow-up sequences.
Kartra does the same as ActiveCampaign, plus has other features outside of email marketing.
Here is a list of additional alternatives to ActiveCampaign for marketing agencies.
Best cold email marketing software
I typically don't recommend using cold email, because in my tests I've found many other marketing strategies that work better.
That being said, if you're still keen to test out some cold email marketing software in your own business, here are the two tools I'd recommend:
Both tools are very similar and integrate with your email address to send cold emails.
Tip: Don't use your primary email address for cold emails. It's best you use a secondary email to make sure your primary email address doesn't get flagged as spam.
Best CRM management software
A CRM is what you use to manage all your leads.
Here are the best CRM tools to automate lead generation:
Zoho
Hubspot
ActiveCampaign
Kartra
Pipedrive
Hubspot is probably the best CRM tool, but it's also the most expensive (if you want access to all of the good features).
Zoho CRM is similar to Hubspot, but at a lower cost.
For small businesses, ActiveCampaign and Pipedrive are great at managing your leads. The advantage to using ActiveCampaign, Pipedrive and other similar tools is that it also includes a "Deals" feature, as seen here: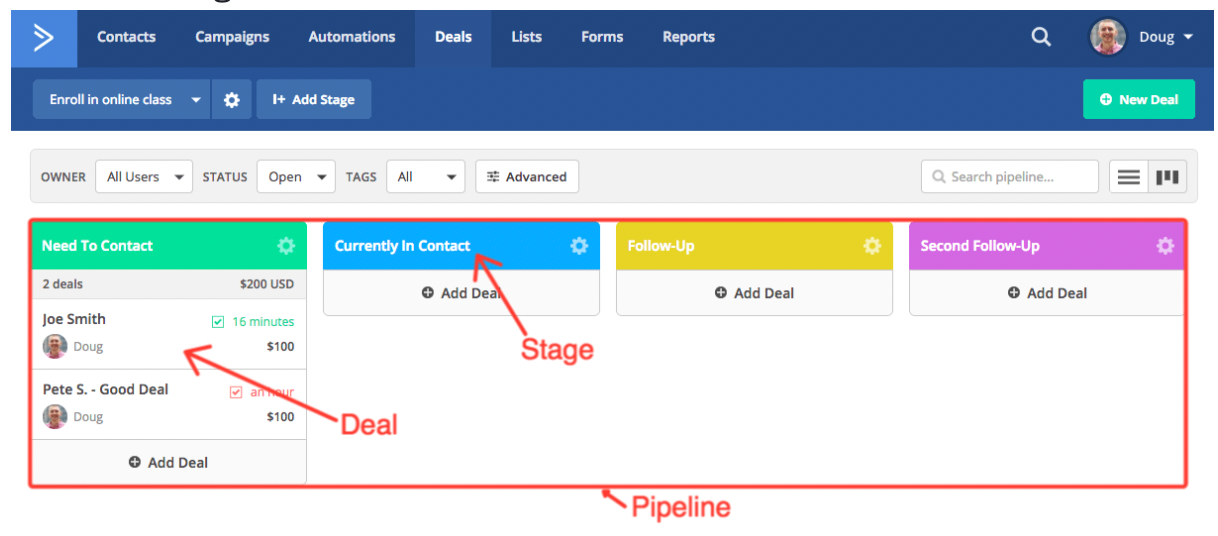 Kartra also has a handy CRM features and you can even give your leads a lead score.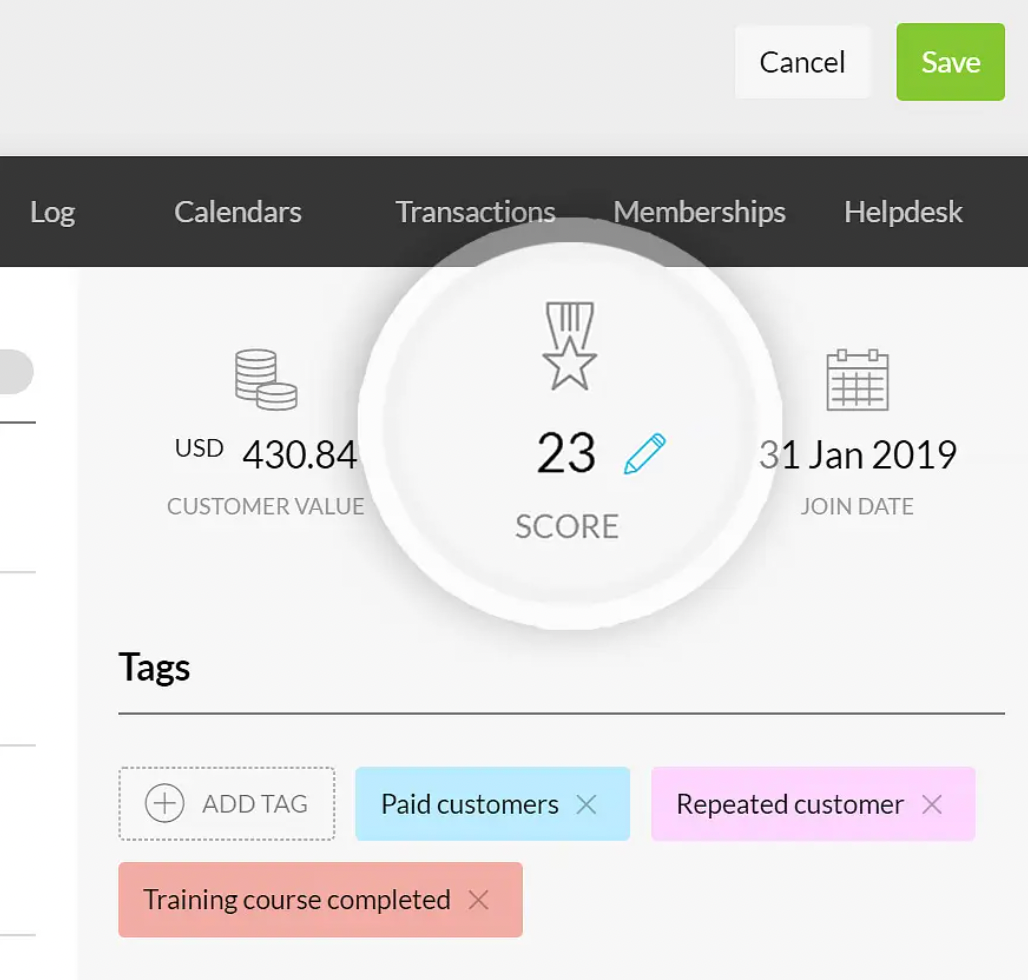 However, Kartra is missing the "Deals" feature that other CRM management tools have.
Best customer communication website chat bots
Customer communication tools allow you to have AI sales chatbots on your website to automatically communicate with website visitors and leads.
For example, if a lead or customer asks a question which contains certain keywords, the chatbot can respond with helpful articles or responses related to their query.
Here are the top 3 communication automation tools:
Both tools offer similar features. The tool I use on my website homepage is Drift (it's also free to start using it yourself).
Best content marketing automation tools
Content marketing tools help make your life easier when you're creating content.
Here are some of the best content marketing tools:
Tip: Remember that software can help your lead generation efforts, but it's not the most important aspect of your sales and marketing. For best results, you need to use a lead generation tool in the right way.
This video explains how to best automate your lead gen by using a strategy that gets qualified leads chasing to work with you.
Automate lead generation to save time
Lead generation does NOT need to be time consuming.
As you've seen, there are many ways you can generate leads, appointments and clients 100% on autopilot.
The key to doing this is to:
Stay focused on the marketing strategies and tools that will specifically contribute to more leads, appointments and clients.
Avoid marketing "busywork" that helps with vanity metrics (likes, engagement and followers) but doesn't directly contribute to more sales.
You can learn how to focus on the marketing activities that get results by watching this free training.
Ashley Davis (or 'Ash' for short) is the CEO & Founder of Skyline Social. For over 15 years, he has been helping business owners with lead generation. Ash specializes in helping businesses get high-quality leads, appointments and clients each month in an automated, scalable and profitable way. You can watch his free Masterclass training to learn more.