What is the B2B Buyer Journey?
The B2B buyer journey (also known as the B2B buying journey) are the stages a business takes to convert leads into paying clients.
Mapping out the B2B Buyer journey is essential to winning more B2B clients in your business.
Why?
Because once you have a map of each stage of the B2B buyer journey, you can see how your business compares and if there is room for improvement in your sales process.
What's the difference between the B2B and B2C Buyer Journey?
The main differences between a B2C and B2B buyer journey are:
In most cases, a B2B product or service is more expensive than a B2C product or service
A B2C buyer journey is often shorter than the B2B buyer journey
In a B2C sale there are fewer people involved. B2B buyers often involve multiple decision makers.
Even when targeting small businesses (with only one or two decision makers) the B2B sales process is usually longer than the B2C sales process
What are the stages of the B2B Buyer's Journey?
Here are the three main stages of the B2B buyer journey:
Awareness
Consideration
Decision
If you'd like a deeper dive into how to get B2B leads, appointments and clients each month using Google, YouTube, LinkedIn, and/or Facebook ads, click here to watch this free training.
Stage 1: Awareness
The first stage of the B2B buyer journey is to make business owners or key decision makers in businesses aware of your solution to a problem they have.
You can make business owners aware of your solution with a lead generation campaign.
Choose a traffic source
The first step with your lead generation campaign is to choose a traffic source (such as Google, YouTube, Facebook Ads, LinkedIn, etc) and then have a message (or an ad, article, video, etc) that promises to solve a BIG painful problem they have.
For example, in our business, we have a free training video that explains how to generate 10, 15, 30, or more higher quality appointments each month.
If people resonate with the big problem you solve then they will click on your message (advertisement, article, video, etc) to learn more.
Use a marketing and sales funnel
When a prospect clicks to learn more about your solution, you need to send them to an opt-in page. The opt-in page is the first page of your B2B lead generation funnel.
On the opt-in page, visitors will have the opportunity to learn more about how you solve this problem by giving them your name and email.
Note: It's important that in the awareness stage you ONLY give educational content about HOW they can solve a problem they have. If you jump straight to the sales appointment with a sales rep, chances are people will not be interested. This is because you haven't yet built up any trust with your potential clients.
Have a high converting B2B lead magnet
There are many different types of B2B lead magnets that you could use to educate potential clients about how you can help them.
You can use:
Written PDF guides
White paper
Case study
Webinar
Seminar
Video presentation
And more!
But for B2B lead generation, we've found that a B2B video sales letter is what works best (because video usually converts much better than written content).
The B2B video sales letter (VSL) is a cross between a video presentation and a webinar.
The call to action at the end of the video sales letter will be to schedule a call to learn more.
At this point, your buyers will have entered the second stage of the B2B Buyer journey.
Stage 2: Consideration
Now that your prospect is aware of your solution to a problem they have, they will now start to consider whether your solution is better than other solutions.
This is why it's very important that in your video sales letter lead magnet, you educate potential buyers on how your solution is BETTER than other alternative solutions.
This is so important!
Don't just explain what your solution is; explain why your solution is better than other solutions that your buyers are considering.
If you genuinely have a better solution, this part will be easy!
You can see a real-life example of how I explain why my lead generation solution is better than other solutions at the end of my free training here.
Let buyers schedule a free consultation
If people like the sound of your solution, there should be a call-to-action at the end of your video sales letter telling people to go to the next step of your sales process (which in most cases is to schedule a free consultation).
To do this, I recommend using a free scheduling tool such as Calendly.
The free consultation is helpful if your buyers still have questions before purchasing.
In some b2b sales cycles, you may need to have multiple meetings before your prospects convert into buyers.
Follow up with leads
What happens if you generate a new lead, but don't schedule a call to learn more after watching your video sales letter?
This could happen, even if you have a great video sales letter!
The reality is, B2B buyers may still be considering other options. They may need more time before they make a decision.
In the meantime, it's important you don't give up on the lead!
This would now be the perfect time to follow up with leads using an automatic email sequence until the leads convert into clients.
For best results, try to answer questions (especially sales objections) that your buyers may be thinking about in your follow up emails.
The more questions you answer, the more trust you will build, and the more likely the leads will eventually convert into buyers.
Stage 3: Decision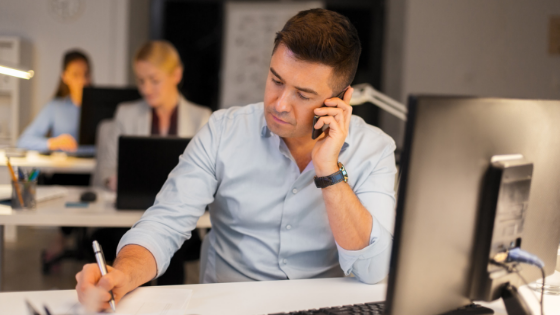 This decision stage of the buyer's journey happens after you have a sales appointment with a potential client.
The sales appointment is designed to explain your value proposition and answer any questions you might have.
Why marketing is important to get more sales
According to Google's Zero moment of truth research, 80% of a buying decision is made BEFORE a sales call with your sales reps.
In other words, 80% of the sales decision is affected by what a buyer sees BEFORE speaking to you (your marketing).
This is why having the video sales letter and follow-up emails mentioned in stage 2 (consideration) are so important if you want to get better results from your lead generation.
Follow up with prospects who book sales appointments
Even if you speak to a potential client on the phone, it doesn't mean they will convert straight away. If they do convert, great. But if they don't, continue to send them follow-up emails with helpful educational content until they convert.
I've had clients I've spoken to who didn't convert straight away after having a sales call. But thanks to my regular and helpful follow-up emails, they would convert a few months later (or in some cases even a few years later).
Don't underestimate the power of being consistent in marketing by following up!
How long is the B2B sales cycle?
The short answer is it depends. Some leads require more time than others before they convert.
In general, we've found that most B2B buyers convert within 6-12 months.
However, in some cases it can be much shorter and in other cases it will be longer.
It's a good idea to track your leads and see how long they take to convert so you'll know the answer for your business.
This will also help you manage expectations if leads do not convert straight away into appointments.
To increase your chances of converting leads into appointments faster, make sure you create content that answers questions your potential clients have before working with you.
The more questions you answer, the quicker and easier it will be for you to build trust with your leads.
How to speed up the b2b buyer's journey
To speed up the buyer journey, think about the type of content you're creating and sending out to leads via email marketing.
The better the content, the faster b2b leads will convert.
Here are some ideas:
YouTube Videos answering questions people ask
Written content answering questions people ask
Answers to different sales objections
Client results and testimonials
Connect to prospects on digital channels
Another way to speed up the time it takes to convert leads into clients is to connect to leads on social media.
LinkedIn is probably the best channel for connecting to potential customers.
You can connect to potential customers on LinkedIn by searching for their name, location, and company name.
It's a good idea to make this a best practice with any sales reps you might have.
Use sales technology to improve b2b sales
To get better results from your marketing strategy, it's a good idea to use technology to automate as much of your sales and marketing as possible.
Best B2B sales and marketing tools
Here are some of the best b2b tools we recommend you use:
Using B2B marketing and sales automation tools will save you a lot of time in your business!
B2B Buyer's journey example
Here's a real-life example of how the b2b sales cycle for my businesses works:
1. Business owner has a problem (awareness stage)
My clients typically have the following pain points:
Need more clients
Need more appointments
Need better quality appointments
Need more leads
To fix this problem, a business owner might try some of the following solutions;
Networking events
Word of mouth
Relying on referrals
Seminars
Door knocking
Cold calling
Facebook Ads
LinkedIn outreach
Google ads
YouTube ads
And more!
The problem is… None of those solutions have worked very well!
And the big question is: WHY?
This is when they start researching the solution to their problem.
2. They search for a solution (awareness)
There are many ways a business could look for a solution to their problem, but in most cases, it starts with a Google or YouTube search.
For example, they could search for: "How to get higher quality sales appointments":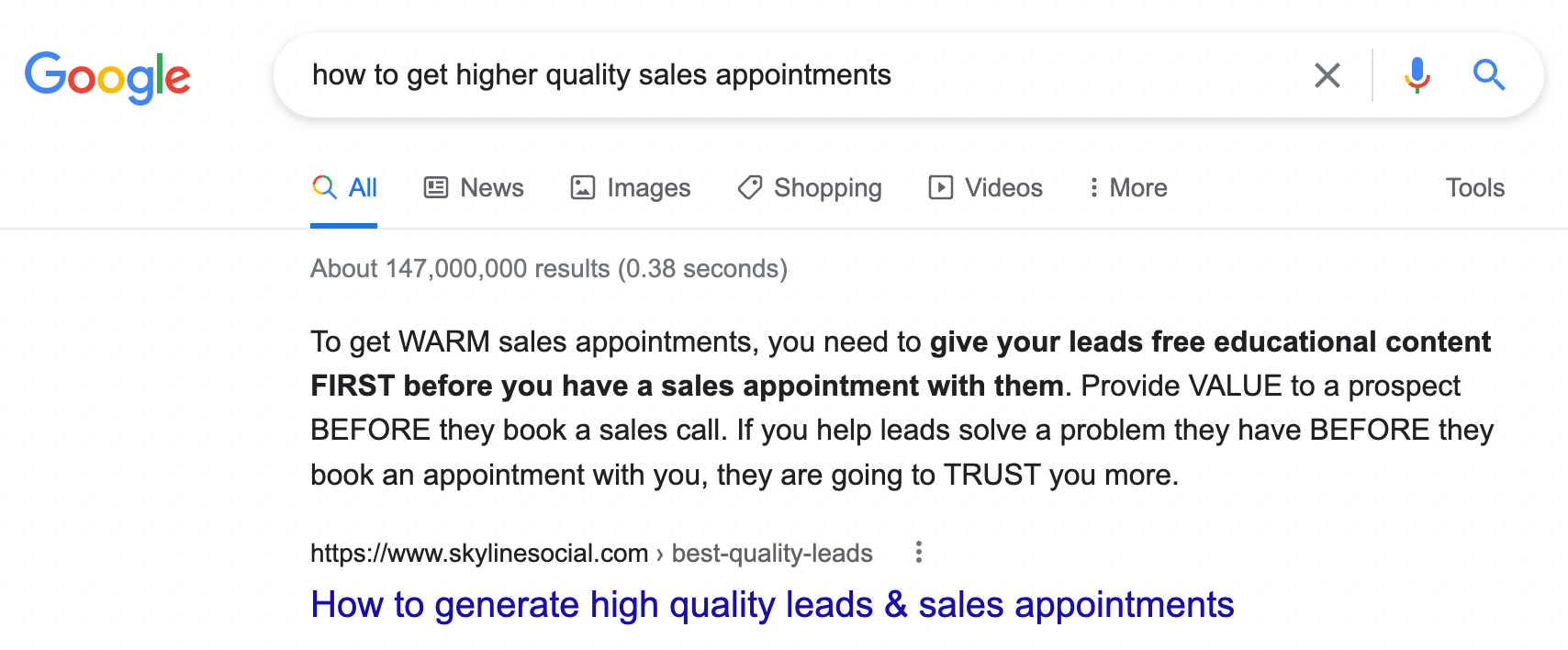 This is just one example of thousands of keywords we are ranked first on Google for. Each day appearing at the top of Google for these keywords generates leads with SEO.
You can watch 'Step 4' of my Free Masterclass training to learn how you can do the same (it's easier than you might think!).
As they read the article, they notice that to solve this problem they need the right strategy.
Throughout the article, I point them to my free training where they can learn a detailed strategy to generate high quality sales appointments each month.
As soon as they sign up for the free training, they've now become a lead!
If you don't yet appear at the top of Google organically, you can pay for ads instead.
3. They look at their options (consideration)
After watching the free training, they'll know exactly how to fix the problem they have.
Now they need to decide the best way to take ACTION and get this done.
They have a few options:
1) They can try to do it themselves (cheaper but results will take longer and be harder)
2) They can get help from someone who has done it (requires a monetary investment but gets faster and better results)
If they decide they want to work with someone who has done it, the free training also explains how Skyline Social's solution is better than other alternative solutions that are out there.
4. Schedule a call (decision)
If they like what they hear on the free training, they have the option to schedule a call if they still have more questions before making a purchase.
At this point, they can make a decision as to whether they want to move forward or not.
Depending on the size of the company, the decision-making process may require multiple meetings with different decision makers.
How to get your own b2b sales system
If you like the sound of this b2b sales strategy, then be sure to click here to watch this free training video.
This free training will explain the best strategy to generate 10, 15, 30 or more high-quality appointments each month with your ideal clients in a way that is automated, profitable and scalable.
Ashley Davis (or 'Ash' for short) is the CEO & Founder of Skyline Social. For over 15 years, he has been helping business owners with lead generation. Ash specializes in helping businesses get high-quality leads, appointments and clients each month in an automated, scalable and profitable way. You can watch his free Masterclass training to learn more.