Image credit: Photo appointment schedule
You must STOP immediately if you're still sending back-and-forth emails to schedule meetings.
Why?
Because appointment scheduling apps for service based small businesses can automate this whole process for you!
The problem is…
There are SO many calendar appointment scheduling tools, and choosing one may be challenging.
Because we specialize in helping business owners get high-quality sales appointments each month (watch this video to see how), we have a lot of experience using appointment scheduling apps.
So, to help you, here are the top 10 best scheduling software apps for service businesses.
Quick Summary
If you're short on time, here's an overview of the best calendar appointment scheduling apps:
However, remember that even using any of the best scheduling apps on this list won't automatically keep your calendar full.
You need a way to get people to SEE your calendar so you can get more sales appointments each month.
What's the best way to do this?
I recommend using an 'Automated Appointment Funnel'.
For example, here's a screenshot of my calendar from bookings received on one weekend, thanks to an automated appointment funnel:
So, if you're looking to get 10, 15, 30 or more high-quality appointments with your ideal clients each month, be sure to watch my free Masterclass training, which goes through how you can do this step-by-step in your business using an 'automated appointment funnel'.
What are the best calendar appointment scheduling apps?
Here is a detailed review of the top appointment-scheduling apps for small businesses:
1. Calendly
Best overall
Calendly is one of the most popular calendar appointment scheduling software out there, and it's the best appointment scheduling app that I use for my own business and most of my clients.
Let's face it…
Calendly has been one of the best scheduling apps for a long time.
Calendly helps you create a booking page, set up your rules, and share your page with leads and clients so they can schedule appointments with you. This way, you don't have to bother explaining little details or trying to work around your client's schedules. 
I love that Calendly is incredibly easy to use and user-friendly.
When clients view your page, they only see the dates you're available and the length and type of meeting they can schedule. So, after sharing your page, you can sit back and watch your schedule fill up with bookings without further stress.
Calendly also sends automatic appointment requests and reminders through email or text to increase the chances that leads show up for the sales call.
Pros of Calendly:
It has a free plan, so anyone can use it.

Easier to use compared to most other appointment scheduling apps.

Automatically adjusts to individual time zones to avoid confusion.

Works with external calendar applications including Google calendar and Outlook.

Collaborates with various external business applications.

Integrates well with teams if you need appointments booked for multiple schedules

Integrated payment systems.
Cons of Calendly:
Its free version doesn't allow you to send text and email reminders

Requires a paid plan if you want to get the most from it
Try out Calendly for free today!
2. Acuity Scheduling
Best Calendly alternative
Acuity Scheduling (also known as square appointments) is a reliable and extensive appointment scheduling app that helps you manage your appointments and client information. 
Square appointments have a user-friendly booking process similar to Calendly.
Your clients can get information concerning your availability on your page, book meetings, and make payments seamlessly. They can also reschedule appointments or cancel appointments without any help!
Acuity has two unique features that Calendly and other scheduling software on this list doesn't have:
Minimize Gaps
Make Me Look Busy
The Minimize Gaps feature hides your available slots in between fixed appointments. This way, your clients can only view your availability before and after existing appointments and set up meetings by scheduling appointments accordingly.
The Make Me Look Busy feature enables you to hide a significant number of openings from your clients. This way, booked and available slots will be hidden from your client's view. As the name implies, your business appears busy and in demand.
This is a unique and very powerful feature that only Acuity Scheduling software provides.
Pros of Acuity Scheduling:
Easy to use with well-documented features.

Works seamlessly on both iOS and Android devices.

Allows you to sell additional services and combination deals to your customers.  

Make me look busy is a helpful feature for small businesses
Cons of Acuity Scheduling:
No built-in SMS reminder option.

Its pricing structure is rigid.

Its free plan is not very useful.
Take a peek at Acuity Scheduling today!
3. Kartra Calendars
 Best for comprehensive scheduling
Kartra Calendars is one of the key features of the cloud-based marketing automation platform, Kartra.
Now, Kartra Calendars likens itself to a personal assistant, and it's not far off the mark. The scheduling software is divided into four models: the consultant, the gym, the live event, and the recurring. 
This largely depends on the appointments you and your client intend to schedule. 
So, whether you want to schedule a one-time or weekly meeting or run a live event for a large audience, Katra Calendars has something for you! 
Here's an example of what a Kartra calendar looks like:
With this software, you can create your booking page, customize it based on your availability, and share it with your clients so they can book accordingly or reschedule.
You can also charge clients before they book an appointment with you with Kartra Calendars' integrated payment systems or let them schedule for free. In addition, you can configure its settings to send confirmation emails and reminders.
The best part about Kartra calendars is that it integrates well with Kartra's all in one marketing software.
This makes is a top-rated appointment scheduling app for business owners looking for an all-in-one marketing tool.
Pros of Katra Calendars:
Integration with other Kartra suites to help improve your business efficiency.  

Easy to use and beginner-friendly.

It has diverse options suitable for different categories of professionals.

Allows you to take payments directly from one on one meetings
Cons of Katra Calendars:
Limited customization options.

It does not have a free version.

Microsoft outlook calendar sync doesn't work that well
Click here to try out Kartra Calendars! 
4. SimplyBook
Best for client bookings
Also known as SimplyBook.me, SimplyBook is an online appointment scheduling software suitable for service-oriented businesses and entrepreneurs.
It is another excellent appointment scheduling app with beautiful graphs to help you visualize how many bookings you get each month.
It provides a wide range of easy-to-use features that will help small business owners retain clients. These features include customer check-in, 24/7 booking, and automated 'book soon' reminders. 
SimplyBook helps you keep track of your appointments and manage various calendars and client information on the platform. Its features are divided into five categories that distinguish the types of appointments clients can book. It also allows you to display your various services on your booking page. 
And that's not all…
SimplyBook's features allow you to customize your booking page to fit your brand and include features like mandatory deposits and gift cards for clients. You can also use forms to get client feedback to help you improve customer experience and your services.
Pros of SimplyBook:
14 language options to encourage diversity and aid international businesses.

Integrated global payment systems.

Allows you to link your booking page to your social media platforms.
Cons of SimplyBook:
The free version requires a monthly renewal for continued use.

It doesn't work with the Zoom meeting application.
Click here to SimplyBook a meeting today!
5. Booknetic
The effective appointment scheduling plugin Booknetic can help you save a lot of time. Customers can book conveniently, and the booking procedure is made simpler.
It provides every service a small business would require, including waiting lists, group scheduling, and break days.
However, Booknetic's broad range of data collection functions is where it truly shines. Directly from the dashboard that is included, you can set up conversion tracking to see which services and product categories are more popular.
In addition, Booknetic provides Booknetic SaaS, a version designed specifically for business owners. As a result, Booknetic can be customized by users and sold to others, creating a significant passive income stream.
Pros of Booknetic:
Allows you to customize the booking process to suit your preferences. Provides two-way synchronizing of your Google Calendar
Supports local payment alternatives as well as PayPal, Mollie, Stripe, Square, and Razorpay
Enabling you to use webhooks to send notifications from your website
Combines with Zapier to create the ideal workflow
Allows you to monitor the effectiveness of your website with the integration of Google Analytics
Cons of Booknetic:
Unfortunately, Booknetic does not have a free option.
6. Bookafy
Best scheduling app for calendar synchronization
Listen, if you're a busy small business owner, you'll love Bookafy!
Bookafy's most distinctive feature is its calendar synchronization, which is why it is in our top 10 list of best appointment scheduling apps. You can choose the two-way calendar syncing feature, which lets you and your client view each other's schedules. 
You can also opt for one-way syncing if your client wants to view your calendar, but you don't need to view theirs.
Don't worry; you can still control how much of your calendar others can see when you grant them viewing access.
Bookafy also works well with different mobile devices and can be synced with external calendar applications like Exchange, iCalendar, Office 365, and Outlook. In addition, it provides detailed reporting metrics. This enables you to evaluate your activities, client management, payment, and overall business growth.
Pros of Bookafy:
Integrated payment system.
Automatically generates a Zoom or GoTo meeting conference link for every appointment.  
Allows you to assign client meetings to team members if you're unavailable.
Cons of Bookafy:
Some features are not easy to find.
Limited customization options.
Click here to check out Bookafy's features!
7. Mindbody
Best for beauty, fitness, and wellness
Whether you run a fitness studio or a salon, Mindbody makes it easy for customers to book appointments with you online!
It also offers additional features that help you run client management smoothly, including inventory control, marketing tools, and payment and payroll systems. 
If you're in the health and wellness industry, this is definitely one of the best scheduling apps you'll find.
Mindbody allows you to link your page to your social media platforms and publish it on business advertising websites for more exposure. It also has customizable features like birthday offers and other campaigns with which you can gift clients and build customer retention!
If you need more tips on how to turn prospects into regular customers, you can check out my free Masterclass training for efficient strategies.
Pros of Mindbody:
Live-streaming option that allows you to teach your classes remotely.
Offers features that can help you build your brand application and website.
Allows you to display your additional services on the booking page.
Cons of Mindbody:
Customer service can be unresponsive at times. 
Not suitable for multiple users.
No mobile support.
Click here to view Mindbody's services!
8. HubSpot Meeting
Best for enterprise clients
HubSpot Meeting software is a feature of the HubSpot CRM platform. 
A standout feature is that it automatically generates a customer record when a new contact books an appointment. This helps to save time tracking and keep track of client information.
Hubspot is one of the best scheduling apps for both small and larger businesses looking for an enterprise solution.
It also allows you to schedule joint meetings with clients and other team members. If you're unavailable, you can assign tasks or client appointments to your team members depending on the client's needs or the most available team member.
Pros of HubSpot:
It has in-house suites that can be utilized for business growth.

Works well with external business tools.

Great for team collaboration and management. 
Cons of HubSpot:
Limited external calendar integrations.

Not accessible outside the HubSpot software.
Click here to try out HubSpot Meeting today!
9. CalendarHero
 Best for quick and easy scheduling
Despite being relatively new, CalendarHero is making its mark as one of the leading appointment scheduling apps.
It's great for easy bookings, automated reminders, calendar synchronization, and collaboration across various platforms. 
In addition, CalendarHero has a feature called 'Attendee Insights' that provides meeting templates and summary details about your clients ahead of meetings. 
It also enables you to keep an account of your client's information. This will allow you to meet their needs better and improve business efficiency. 
Additionally, it has various customization options which you can use to personalize your booking page, align it with your brand, and serve your customers better.
Pros of CalendarHero:
Suitable for individuals and teams.

Offers both automated and live scheduling options.

Extensive integration with video conferencing platforms.
Cons of CalendarHero:
Take a peek at CalendarHero today!
10. Zoho Bookings
Best for flexible scheduling
Zoho Bookings is a robust, flexible appointment scheduling app that helps you book appointments with scheduled breaks and special event hours. It also includes buffer times and a custom cancellation policy.
In addition, you can create booking pages for your different businesses and workspaces. These pages can be viewed individually or with your activities across the different workspaces in one schedule.
It doesn't stop there…
With Zoho, you can view your calendar from a client's perspective to learn how the scheduling process is for them. This will help you customize your booking page to present your brand well and give your clients a seamless and hassle-free experience.
Pros of Zoho Bookings:
Features are easily accessible.

Integrations with a wide range of external applications.

Great for team collaborations. 
Cons of Zoho Bookings:
Its wide array of features may prove overwhelming.

Not suitable for quick and basic appointment scheduling. 
Click here to try out Zoho Bookings!
11. Picktime
Best budget plan option
If you're looking for an appointment scheduling application that'll schedule appointments and perform other administrative tasks at no cost at all…
Then Picktime is the one for you. 
This software's free plan is the most generous in town.
Picktime allows you to schedule unlimited appointments and is accessible for up to three team members! 
Also, if you have a business with different branches, Picktime detects your clients' locations and suggests the branches closest to them for convenient physical meetings.
Additionally, you can automatically connect bookings you receive to your employees' calendars without needing to notify them. 
Picktime looks neat and professional, so it's not just a free basic option. 
Pros of Picktime:
Modern layout and appointment scheduling method.

Impressive setup speed.

Its free plan is accessible to more than one user per account.
Cons of Picktime:
Limited customization feature.

Its free plan has only one video conferencing application- Jitsi Meet.

Its free plan payment system is limited to PayPal. 
Get started with Picktime today!
12. Setmore
Best for free unlimited appointments & Payment processing options
Setmore is an ideal scheduling software for small service-based businesses looking to streamline their processes. It offers unlimited appointments and payment processing options, making it a comprehensive solution for business owners.
With Setmore, you can:
Send automated reminders for group appointments via SMS or email so customers don't miss their appointment times.
Integrate your schedule with Google and Outlook, keeping everything in one central location.
Paid plans support Stripe and PayPal payment processing, so you can easily have multiple services and securely take customer payments.
The free forever plan is quite good compared to other scheduling software for small businesses. It supports up to three staff members who can all manage clients' bookings from anywhere at any time using mobile devices or desktop computers.
13. Doodle
Best For Recruiters & Freelancers
Doodle is an incredibly useful scheduling app for recruiters, freelancers, sales professionals, educators and nonprofits.
It provides a straightforward interface to schedule meetings with clients or colleagues while offering additional features like group polls and calendar integrations.
One of the features I like about Doodle is that you can quickly create polls to find the best time for everyone on your team to meet without going back and forth via email or text.
Overall, Doodle is an excellent scheduling and resource management tool suitable for various use cases, whether you're a recruiter looking for new talent or a freelancer needing help managing multiple clients' schedules efficiently.
14. SimplyBook.me
Best for incentivizing appointments with gift cards
SimplyBook.me is a powerful cloud-based appointment booking system designed specifically for businesses in the service-based industry.
It provides extensive functions to facilitate appointment scheduling and payment processing, allowing service-based professionals to concentrate on providing superior care.
In my experience, SimplyBook.me's best scheduling software feature is its "Gift card feature". Here's an example of what this looks like:
You can easily offer coupons or gift cards as part of their services or packages, making them more attractive for potential customers looking for deals or special offers from service-based businesses.
Furthermore, users can monitor the utilization of a certain promotion or discount by customers with coupon codes to gain insight into customer behavior regarding their business's discounts and deals.
What is an appointment scheduling app?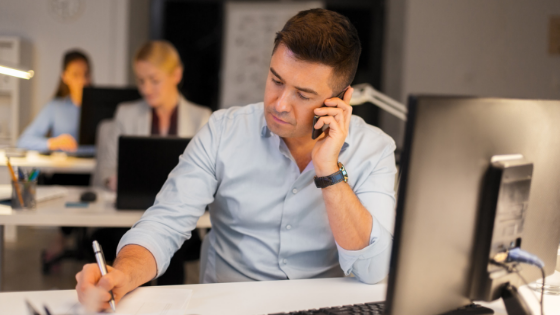 Scheduling apps are a powerful tool for businesses of all sizes. Scheduling software makes it easy for clients and potential clients to schedule appointments in your calendar effortlessly.
You can set up automated appointment reminders to ensure leads don't miss appointments and increase their chances of attending the call.
Additionally, many scheduling apps offer payment processing options so you can quickly process payments from customers without manually entering data into your system.
Tip: Scheduling software is a great asset for any business, providing the capability to quickly and efficiently organize events such as appointments, meetings, and more. Calendly is the perfect solution for one-on-one events such as consultations or coaching sessions due to its unlimited event capabilities and seamless integration with Google Calendar, Google Meet, Zoom & Outlook calendar. It's an absolute no brainer.
What to look for in the best scheduling software for small businesses?
With the correct scheduling app, you can save time and money when managing appointments. Here are some of the top features to look for when selecting the best scheduling apps for your business:
Fast Appointment Booking Capabilities
Fast appointment booking capabilities make it easy to book appointments with customers or clients quickly and easily.
Look for an application with good user experience and flexible designs so you can customize your appointment scheduler to fit your particular requirements. Many apps also offer automatic appointment reminders so customers don't miss their appointments.
Calendar Sync Across Devices
Scheduling software should be able to sync calendars across multiple devices so everyone in your team is always on the same page. At a minimum, the calendar software should sync to Google calendar and Microsoft Outlook.
Ensure your team's calendars are always up-to-date and in sync by finding an app that allows access to them from any device.
This allows people to avoid double booking in your small business. It's worth noting some appointments only sync with other calendars if you upgrade your free app to one of their paid plans.
Integrations With Third-Party Tools
Integrating scheduling software with third-party tools like Zapier, accounting apps and sales funnels can save time and effort by automating mundane tasks such as invoicing or customer relationship management (CRM).
This one is a KEY feature your appointment scheduling app must have!
Integrating with external applications like Zapier or QuickBooks Online can guarantee that data is kept up-to-date and precise while minimizing any manual mistakes from manually entering information.
The Bottom Line
Effective calendar appointment scheduling software will undoubtedly take much-needed stress off you and your business. It will also help you improve your overall business development and client experience if you use it smartly.
Emphasis on using it smartly.
Before you select a scheduling software, though, there are things you should look out for to determine a suitable one for you and your business.
Firstly, examine its customization features, integrations with external applications, mainly calendars and video conferencing applications, flexibility, and unique administrative functions. 
However…
Reviewing the scheduling features isn't the most important thing.
You could use the best scheduling app for small business owners, but if no one knows you exist, you will never get any newly scheduled appointments.
The solution?
You need a way to get more sales appointments in the first place! With my free Masterclass training, you will learn how to generate leads and get 10, 15, 30 or more high quality sales appointments each month with your ideal clients!
Frequently Asked Questions (FAQs)
Ashley Davis (or 'Ash' for short) is the CEO & Founder of Skyline Social. For over 15 years, he has been helping business owners with lead generation. Ash specializes in helping businesses get high-quality leads, appointments and clients each month in an automated, scalable and profitable way. You can watch his free Masterclass training to learn more.