Many restaurant business owners are looking for innovative ways to use technology in order to grow their restaurants in difficult economic times.
How?
One way restaurant owners are doing this is by replacing the high cost of employees with robot workers, including:
Robot servers: to deliver food to customers
Robot waiters: to order and take away food for customers
Robot cleaners: to clean plates, tables and food for customers
Robot chefs: to cook food for customers
These AI-powered robots can help reduce operating costs, increase profits and provide faster service to customers.
In this article, you'll learn about the 5 best restaurant robot servers that are available on the market today.
What are the best robot servers you can buy or rent?
Here is a list of the best automated restaurant robots:
1. Matradee L
Best overall
Welcome to the future. Matradee is a multifunctional robot server that is revolutionizing the way that restaurants are run.
The Matradee L comes stacked with helpful features including:
A 15-hour battery life so you don't have to worry about constantly charging it
An impressive carrying capacity of 80+ lbs
Advanced obstacle avoidance, thanks to LIDAR and AI camera technology so that it can effectively avoid any unexpected obstacles
Multi-robot functionality so that multiple robots can work together if needed
Custom cloud portal that allows customers to view insights on their Matradee L's productivity and efficiency
But it doesn't stop there. The Matradee also comes equipped with a custom advertising platform! You can use the main screen as an opportunity to market your own items in your menu or advertise other business products and services to maximize the revenue potential.
Click here to learn more about Matradee L
2. Servi from Bear Robotics
Good for restaurants
Servi is a restaurant robot waiter that allows restaurants to serve food and drink. Oh, and it even makes table bussing easier.
Key features:
Very cost-effective compared to other restaurant robots or hiring more employees
Easy and quick installation (15 minutes to a few hours depending on restaurant size)
Helps your restaurant staff save time
Allows you to deliver food to customers more quickly
Uses AI self-driving technology to get to the correct able while avoiding people or obstacles
Up to 12 hours of battery life from a single 4-hour charge
Can be used in restaurants, senior living centers, hotels, cafes and more
Overall Servi is one of the best AI robots for restaurants in the USA. It works well, saves restaurants money and is already being used by many major restaurant franchise business owners.
Some examples of restaurants using robot servers are Chilis, Denny's & Sergio's.
You can learn more about Servi.
3. CARSON RoboWaiter
Good robot waiter
The Carson robot waiter & butler can be used to deliver food and drinks to diners at restaurants or even room service to guests at hotels.
The RoboWaiter costs approx. $45/day (or $1,350/month) to rent and there are also options to buy it if you prefer.
Key features:
Multiple adjustable trays to store plenty of food and drinks for customers
AI self-drive technology that uses LIDAR to intelligently avoid obstacles
Long battery life with 15 hours of working time and 48 hours of standby time
RoboWaier Robots can make basic facial expressions to give them some personality
Overall, RoboWaiter is one of the best restaurant AI-powered robots for restaurants, hotels and cafes.
If you have a restaurant in the UK or USA, you can learn more about Carson RobotWaiter by clicking here. If you live in Australia, click here to see another very similar robot here specifically for Australian restaurants.
4. ARM Robotic Cook
(Best robot cook / chef)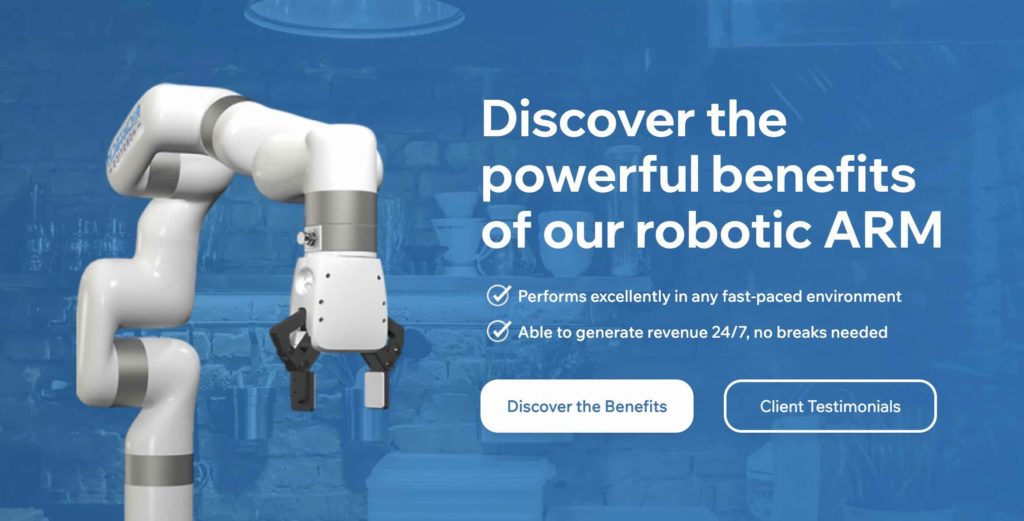 ARM by Richtech robotics is a 24/7 robot arm that is able to serve fresh tea and coffee as a barista and even prepare food as a robot chef.
Key features:
Works 24/7 with no breaks
Cheaper than hiring additional employees
Extremely detailed precision
Custom grips to fit any need
Flexibility in what it can do
Overall, the robot ARM is a great robot for the restaurant kitchen.
5. BellaBot Restaurant Robots
(Best general-purpose restaurant robot)
BellaBot restaurant robots are available in over 60+ countries. They are cost-effective, efficient and profitable for any restaurant owner.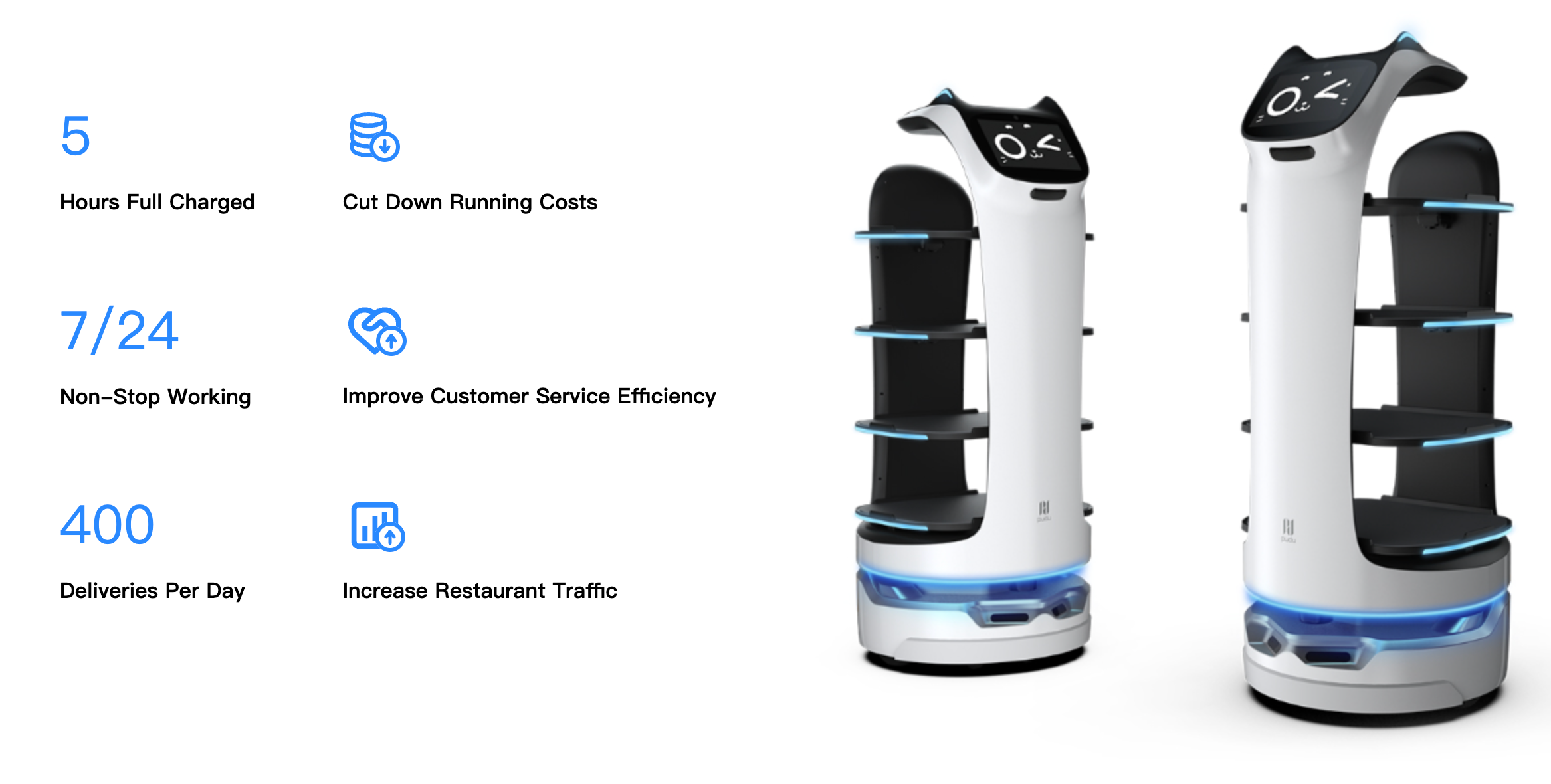 Key features:
Up to 20 BellaBots can work in the same location at the same time
Has an exchangeable battery, so it can keep working 24/7 without stopping
Interaction features to bring a unique experience to customers
Advanced AI to allow it to navigate restaurant
6. Flippy 2 by Miso Robotics
(Most advanced and automated robot chef)
Flippy 2 robots are designed and created by Miso robotics. These robots are designed to automate the whole restaurant kitchen experience with AI-powered robots.
Miso robotics has a wide range of automated robots including:
Flippy 2: Automated frying solutions for restaurant owners. Can cook at multiple places with one machine.
Flippy Lite: Focuses on automating a single product rather than multiple products (like Flippy 2).
CookRight Coffee: Uses AI to create the perfect cup of coffee based on temperature, volume and time data
Sippy: Automatic beverage dispenser machine
Key features:
Miso robotics are well-built products
Prepare food tasks twice as fast
Flexible and adaptable
Maintenance and support included with the product
Can manage up to five fryers at once
Overall, Miso Robotics products are leaders in the robotics restaurant industry. Flippy 2 costs from $3,000/month. They have cheaper options (such as Flippy Lite) if a restaurant wants to test it out and start small.
Conclusion
Image credit: Image was created using Jasper's unique AI image generator.
Many restaurant owners are now looking to buy or rent robot waiters as an innovative strategy to keep their businesses thriving.
These robot waiters can help reduce operating costs while providing faster service for both customers and staff.
If you're looking for the best AI robot waiters for your restaurant business, definitely check out some of the options above.
FAQs
Ashley Davis (or 'Ash' for short) is the CEO & Founder of Skyline Social. For over 15 years, he has been helping business owners with lead generation. Ash specializes in helping businesses get high-quality leads, appointments and clients each month in an automated, scalable and profitable way. You can watch his free Masterclass training to learn more.